Techrules RenRS
Techrules is unveiling the final production design of its RenRS hybrid supercar at the 2018 Geneva Motor Show. The single-seat race car is a lightweight, high-performance track variant of the Techrules Ren supercar that was first previewed at last year's Geneva show.
The Ren RS features the China-based company's ground-breaking Turbine-Recharging Electric Vehicle (TREV) system. The series hybrid powertrain delivers unprecedented levels of efficiency and performance, using advanced micro-turbine technology to deliver an ultra-low environmental impact.
As well as establishing an R&D centre in Beijing, Techrules is also working to establish key partnerships with several global automotive and non-automotive companies to further the development of its range-extending proprietary micro-turbine technology for a variety of mobility and industrial applications.
Techrules has entered a Memorandum of Understanding (MOU) with CRRC, the world's largest supplier of rail transit equipment. The agreement, officially signed at a ceremony during the Geneva Motor Show, will see the two companies jointly develop the TREV technology further, for use in CRRC's environmentally-friendly Autonomous rail Rapid Transit (ART) transportation system.
The final production design of the aerospace-inspired RenRS is derived from the Techrules Ren, now with a single cockpit layout and design modifications to improve aerodynamic and cooling efficiency. The lightweight carbon-fibre monocoque chassis has been strengthened and configured for single-occupant track use by revered motorsport specialist, L.M. Gianetti of Turin, who also developed the new design elements following extensive aerodynamic analysis.
The modular chassis design permits a variety of powertrain configurations, to provide the range and performance capabilities required by the customer. The flagship version – with a high-power 28.4 kWh Lithium-Ion Polymer battery and with two motors at the front and four at the rear – delivers maximum power of 960kW (1,287 hp / 1,305 PS) with a range of 1,170 km from 80 litres of diesel fuel (NEDC).
As a result, the most powerful RenRS will rocket from 0-100 kph in just 3 seconds, onto a top speed of 330 kph, delivering a unique blend of ultimate performance, brutal power and unparalleled efficiency.
The supercar will be available for track use only and delivered to an exclusive band of customers within two years. Techrules is in discussion with potential international automotive partners to form strategic alliances to assist with the production and launch of vehicles for markets around the world.
William Jin, the founder and CEO of Techrules, said: "The unique modular design of the Ren chassis and powertrain has enabled us to create a perfectly engineered high-performance track car and demonstrate our TREV technology in the most efficient way. We are working hard to grow our global capabilities in engineering and manufacturing and will soon reveal major joint ventures that will enable us to further develop our innovative technology for a wide range of commercial mobility and industrial applications."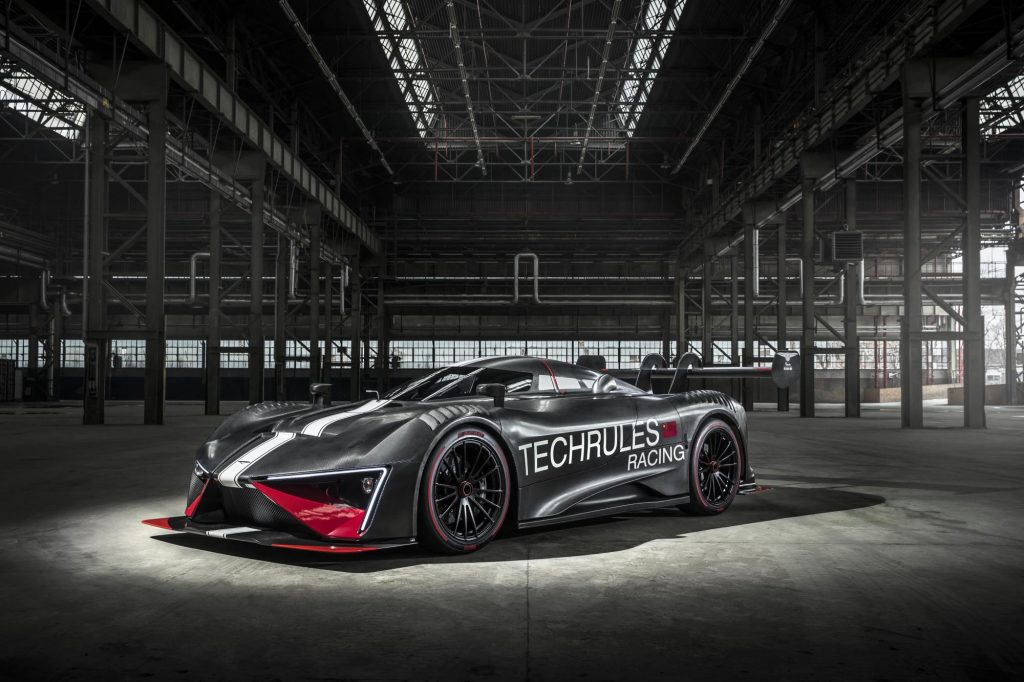 Design enhancements for greater efficiency
The aerospace-inspired design of the preceding 2017 Ren supercar was developed by world-renowned automotive designers, Fabrizio and Giorgetto Giugiaro, with a unique three-seat Le Mans-style configuration. The new RenRS has been developed further by L.M. Gianetti to create the more driver-focused single cockpit layout beneath the distinctive fighter jet-style canopy, which rises dramatically from the centre of the car to allow driver access.
The eye-catching design continues the aeronautical theme, with the 'Turbo Jet' decal reflecting the supercar's exceptional drivetrain. The show-stopping exterior design of the RenRS follows the classic design maxim of 'form follows function', with enlarged air intakes at the front designed to increase airflow through the radiators to improve cooling efficiency, without compromising the striking styling.
The depth of the front fenders above the wheels is as small as possible to reduce the frontal area, with vertical side panels and a squared-off rear minimising drag. The side of the car is smooth and simple, and in combination with the overall aerodynamic design elements, produces a pure, flowing profile, which is punctuated only by the turbine air intakes and the turbine exhaust vent.
At the rear, the large, configurable single-foil rear wing augments the already-excellent aerodynamic function, delivering a blend of stability and variable downforce to provide optimal high-speed aero-balance during braking and cornering. The wing has been designed by L.M. Gianetti to greatly improve downforce – the aerodynamic efficiency of the Ren RS is 3.36The other enhancements contribute to a drag coefficient of just 0.43, despite the huge downforce generated.
Engineering enhancements to boost performance
L.M. Gianetti have also developed the lightweight carbon-fibre monocoque chassis to meet the demands of high-speed track racing. The overall torsional stiffness of the chassis has been increased to deliver a superior ride, superior handling and better response to driver input.
The chassis comprises a full carbon-fibre tub, similar to that used in the top echelons of motorsport, and high-strength aluminium alloy and steel components. The cockpit is topped by a protective steel motorsport-specification roll cage, chosen instead of an enclosed carbon monocoque to allow the upper structure to be specified for different race series if required.
The suspension, designed specifically for the car and manufactured by L.M. Gianetti, comprises a classic unequal length wishbone design at the front and rear. It is constructed of high strength tubular steel and Tig welded. The wishbones are designed to withstand the level of forces that would be experienced by GT3 racing cars.
Bespoke in-board, horizontally-mounted KW three-way adjustable coilover shock units are installed at the front and rear, and are connected to the wishbones by pushrods, similar to the configuration of a typical open-wheeled racing car.
Lightweight 380 mm carbon ceramic discs are fitted in conjunction with six piston calipers by AP Racing. The carbon ceramic discs save 30kg in total compared to equivalent cast iron units and are more durable in the intensive conditions of competitive racing.
Anti-roll bars are used front and rear and are mounted on the end plates. The front anti-roll bar system comprises an innovative geared system allowing it to be packaged into a small space.
Machined aluminium alloy side plates provide the housing for the motor reduction gearing and pickup points for the suspension. All-aluminium fittings are machined from billet 7075 grade T6 Aluminium alloy, which offers a lightweight solution and optimised resistance to corrosion.
The specially-developed traction control and torque vectoring systems enhance driving dynamics further through two performance modes – Race for full power output, or Standard for increased fuel efficiency. The ECU uses 30 sensors to ensure optimum power and torque is split between each wheel – relative to road surface conditions, driver skill and performance required.
This dedicated ECU assesses a variety of safety-related data – including speed, acceleration, steering angle and braking force – to determine what assistance is required to optimise the car's performance.
Safety enhancements to meet FIA motorsport standards
An 80-litre FIA-certified 'safety fuel bladder' is housed beneath the floor to store the fuel that powers the recharging turbine, positioned centrally to create a perfect weight balance. The rupture-resistant tank is foam filled and designed to prevent significant fire even when damaged.
The aluminium end plates on the front and rear of the tub incorporate mounting points for the Air Jack system, with two jacks at the front and two at the rear, to lift the car quickly and safely for pit stops or routine maintenance.
Inside, the driver sits comfortably in a protective carbon fibre race seat, manufactured by OMP to FIA-approved standards. To comply with FIA regulations, a fire extinguisher and six-point harness are also included.
To further enhance driver safety, the Ren RS is fitted with an innovative Safety Canopy Ejection system inspired by aerospace engineering. Six actuators are mounted under the cockpit bubble and controlled by the ECU through accelerometers, to automatically open the roof in case of impact or unusual yaw or pitch rate, operating at temperatures from -65° to 70°.
The actuators are electric, rather than pyrotechnic, and therefore reusable 50 times. The bubble can also be ejected manually, using safety buttons located inside the monocoque for the driver, and on the exterior for race marshals to use in an emergency.
TREV technology delivers supercar performance and unprecedented efficiency
The Ren RS features Techrules' patent-protected Turbine-Recharging Electric Vehicle (TREV) system. The series hybrid powertrain technology combines extensive experience of aerospace and electric vehicle technologies with several proprietary technical innovations to deliver unprecedented levels of efficiency and performance, with an ultra-low environmental impact.
Techrules first presented its TREV technology at the 2016 Geneva Motor Show in its GT96 and AT96 concept cars. The ground-breaking range extender system uses a turbine to drive a generator which charges the battery pack. This in turn, provides electricity to drive the traction motors. Unlike many previously developed turbine powertrain systems, there is no direct electrical feed from the generator to the electric motors in normal operation. Only when the battery is depleted can the turbine be used to propel the car.
Air drawn into the micro turbine is passed through a heat exchanger where heat from the exhaust air is transferred to the cold intake air, and compressed before it is ignited. Ignition of the compressed and heated fuel-air mixture generates enormous energy which is channelled at very high speeds to turn the turbine vanes. As this hot exhaust gas is expelled, it passes through the heat exchanger to ensure the heat energy is recuperated and transferred to cold intake air.
Techrules Chief Technology Officer, Matthew Jin, explains: "With electric vehicles, an electric motor is used to drive the wheels, which effectively frees the combustion engine to exclusively convert chemical energy into mechanical energy and finally into electric energy. This is a major breakthrough, making it possible for us to use the highly efficient turbine engine as a superb range extender on our vehicles."
A modular drivetrain for multiple power outputs
The drivetrain can be configured with four or six axial flux, liquid-cooled electric motors manufactured by YASA in the UK. The four-motor set-up will drive all four wheels while the highest-power six-motor configuration has two motors for each rear wheel, and one for each front wheel.
Customers can choose from either one centrally-mounted high efficiency 30 kW turbine configuration, or a high-power density two-80 kW turbine set-up, with the turbines positioned either side to the rear of the cockpit.
The 28.4 kWh battery packs installed in the two lateral pods are designed and manufactured specifically for the Ren RS and incorporate battery management technologies that enable superior charging efficiency and power balancing between battery cells.
The battery management system (BMS) is integrated and designed to optimise the performance and life of the battery while ensuring absolute safety. There are three water cooling circuits for the motors, battery and inverter. A heat exchanger (radiator) pack is attached to the front aluminium chassis plate and the cooling circuits are supplied by six electric pumps also mounted on the front plate.
The resulting outputs from the various configurations available are:
Four motors = 640 kW / 858 hp (870 PS) 1,560 Nm / 1,150 lb ft
Six motors = 960 kW / 1,287 hp (1,305 PS) 2,340 Nm / 1,725 lb ft
Increasing global capabilities for micro-turbine recharging technology
Techrules is making significant investments to grow its own research and development capabilities. World renowned electric vehicle expert Prof Dr Ching Chuen Chan is leading a newly established Techrules R&D centre in Beijing. This facility is developing and testing core components for different types of turbines, as well as complete turbines for powertrains of commercial and passenger vehicles.
Professor Chan has a long list of merits. He is the founder of the Electric Vehicle Association, a Fellow of the Royal Academy of Engineering in the UK and an academician of the Chinese Academy of Engineering.
Techrules is also developing partnerships with several major China-based global corporations. This follows significant interest in the micro-turbine recharging technology. Its weight-saving and range-extending capabilities making it ideal for a wide variety of automotive and non-automotive applications, including various industrial appliances in markets around the world.
In addition to the agreement with CRRC to develop the TREV technology for its Autonomous rail Rapid Transit (ART) equipment, other strategic partnerships are also being agreed. These will enable Techrules to develop its TREV powertrain for use in a variety of mobility solutions, including low-emission and fuel efficient public transport and light commercial vehicles.
A partnership with new-energy bus manufacturer Wuzhoulong Motors, will see buses powered by the TREV system, fuelled by clean natural gas. The newly developed buses will allow for more fuel-efficient air conditioning and remove the range limitations associated with pure electric buses.
A partnership is also being finalised with Shenzhen BAK Technology Co. Ltd, a global leader in battery research and development with five percent of the global lithium battery market. The companies will jointly develop logistics vehicles powered by the TREV system, to provide a capable and cost-effective light commercial vehicle with unprecedented range.
William Jin, Chairman of Techrules, said: "We have been working hard to establish major joint ventures with leading global companies to increase our international capability ahead of the launch of the electric REN supercar. We are also in advanced discussions with a number of potential new partners to form strategic alliances that will allow us to bring our cars to markets around the world and develop new products and commercial applications for our advanced propulsion system."
TECHNICAL SPECIFICATIONS
TECHRULES Ren RS
Performance (all projections based on initial testing of Ren RS track supercar with maximum battery and turbine configuration)
Power output: 960 kW (1,287 hp / 1,305 PS)
Total torque at the wheels: 7,722 Nm (5,695 lb ft)
Motor shaft torque at front wheel: 780 Nm (575 lb ft)
Motor shaft torque at rear wheel: 1,560 Nm (1,150 lb ft)
Total torque at the motor shaft: 2,340 Nm (1,725 lb ft)
Acceleration (0-100 km/h): 3 seconds
Max speed: 330 km/h
Pure Fuel consumption: 7.5l/100km
Transmission
Number of forward gears: 1
Battery pack
Voltage: Nominal 710-800V
Battery type: High Power Li-Ion Polymer Battery
Capacity: 28.4 kWh
Thermal management: Water cooling
Battery and thermal management systems with several layers of redundant safety and protection systems.
Chassis
Construction: Carbon-fibre monocoque
Front suspension: Double wishbone
Rear suspension: Double wishbone
Wheel / tyre size front: 9J x R21 / 265/40 R21
Wheel / tyre size rear: 9J x R21 / 265/40 R21
Dimensions
Length: 5,072 mm
Width: 2,055 mm
Height: 1,260 mm
Wheelbase: 2,724 mm
Track front / rear 1,786 mm / 1,775 mm
Dry weight 1,854 kg
Ground clearance 120 mm
Brakes
Front: Ventilated carbon ceramic discs Ø 380 mm, 37 mm wide, with six calipers
Rear: Ventilated carbon ceramic discs Ø 355 mm, 35 mm wide, with four-piston calipers
Steering
Rack and pinion electrically power assisted steering.
Safety systems
ABS
Torque vectoring with stability function
Safety disconnect systems
Multiple ECU architecture for monitoring of safety-relevant electronic systems
High voltage insulation
Battery status and TREV control