Motor1.com feature confirmed to host a selection of supercars at Performance Car Show
 Motor1.com, the fast growing editorial destination, is set to host a selection of high-performance cars on its all-new feature at the Performance Car Show.
As the 2018 show edges closer, Motor1.com – quickly becoming established for original news, reviews, advice and market-leading video content – has confirmed some of the most jaw-dropping metal will be displayed on its inaugural stand.
Making its UK debut on the feature stand is the 2018 Volkswagen Golf GTI TCR. The car at the show is a development on last year's series-winning race car. Created for customer sports racing, the GTI TCR is a hardcore track-only weapon, with wide body, 18-inch racing wheels and adjustable aluminium rear wing among many high-performance features. Powered by a 2.0-litre race-prepared turbo engine, the GTI TCR is the latest development of Volkswagen's extensive racing heritage.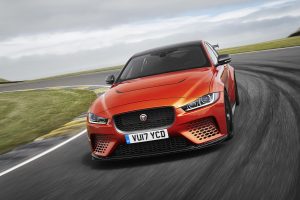 The most powerful road legal Jaguar ever built, XE SV Project 8, is set to take pride of place on the Motor1.com feature. No more than 300 Project 8s will be handbuilt, all with an astonishing 592bhp from a thunderous 5.0-litre supercharged V8. It is sure to be an instant hit with crowds across all four days of the show, having recently been crowned the fastest production-spec saloon car to ever lap the infamous Nürburgring Nordschleife.
Alongside the British muscle car is the much-hyped Porsche 991.2 GT3, with its 493bhp Cup-derived 4.0-litre engine. The GT3 continues the legacy of the Porsche GT models as unparalleled driver's cars. With its wailing 9,000rpm redline, class-leading chassis and suspension, the GT3 has quickly taken the top spot on many a Porsche wish list and will be a sure-fire favourite on the Motor1.com feature.
Visitors will also be able to get up close to the gorgeous McLaren 570S GT4 which lines up on the feature in Hall 19. Its innovative carbon fibre construction and reworked exterior package, 562bhp twin-turbo V8 and host of cutting-edge technology makes the 570S a jewel within the Sports Series line-up. The GT4-spec aero package includes a large rear wing for increased levels of downforce along with a sculpted front bumper and large front splitter. It also comes equipped with lightweight magnesium alloy wheels and Pirelli slick tyres.
The Motor1.com stand will also feature a live stage, where an exciting lineup of automotive speakers and industry influencers will add further colour to the cars on display across all four days.
What's more, visitors will be able to enjoy a variety of other attractions on the stand, including a Batak machine, where you'll be able to time yourself against friends and the stars of the show, a PlayStation console and a cafe bar, allowing visitors to get close and stay close to the gorgeous selection of cars on display.
Jon Quirk, Editor-in-Chief of Motor1 UK, said: "Autosport International is a fantastic opportunity to give our new digital brand a physical footprint and introduce Motor1.com to a key audience of car enthusiasts. In just six months, we've built a brilliant team, created a new visual identity and delivered a content plan designed to work across all key platforms. The Motor1.com stand will help us showcase this great work and set us up for a successful 2018."
Make sure you don't miss out on the chance to see these incredible supercars and much more at the Performance Car Show taking place at the NEC in Birmingham between 11-14th January 2018 by buying tickets at www.performancecarshow.com.
To keep up with the latest content and to purchase your tickets, head to: www.performancecarshow.com.
The Performance Car Show takes place alongside Autosport International at the NEC in Birmingham between 11-14 January. The Performance Car Show runs alongside Autosport International, which is part of Motorsport Network, the world's largest independent automotive and motorsport-related digital platform, connecting millions of people who love motorsport and cars. The Network also creates key industry events including Autosport International and the annual Autosport Awards.