New version line-up also announced for ZOE range
Pricing and UK specification has been announced for the MY18 Renault ZOE. Starting from £18,420 OTR (including PiCG, excluding battery rental), the latest version of Europe's best-selling EV now features the new R110 electric motor offering increased power but still with the same 186-mile real-world range – the best real world range of any mainstream electric vehicle. Ordering for the enhanced MY18 Renault ZOE is now open with the first customer deliveries expected in late summer.
The MY18 ZOE with new R110 powerplant, combines extra power with even greater driving enjoyment. Derived from the R90 electric motor, the new R110 version maintains the same class-leading 'real world' range of 186 miles and compact dimensions yet is now 16hp more powerful. The improved power can be felt most at higher speeds, with the new electric motor enabling the latest ZOE to accelerate two seconds faster (from 49.7-to-74.5mph / 80-to-120kph) than its predecessor. Around town, the R110 motor offers the instant availability of peak torque of 225Nm, ensuring ZOE is as nimble as ever in urban areas.
The latest ZOE benefits from the availability of Android Auto, new optional 'Aconite' dark metallic purple paint and optional Purple Interior Pack. The technological advancements continue with the addition of the Android Auto-enabled R-Link Evolution infotainment system. This allows drivers to display driving-compatible Android applications stored on their smartphone (including Waze, Deezer, Spotify, TuneIn, Skype, Messenger, Audible and many others available from Google Play Store) on the ZOE's multimedia screen.
Adding extra refinement to the ZOE's spacious cabin, the new optional Purple Interior Pack includes a violet satin finish for the dashboard trim strip and air vent, gear lever base, loudspeaker surrounds and top-stitching, with black and violet fabric upholstery.
The new MY18 ZOE range has been simplified with a choice of two trim levels, Dynamique Nav and Signature Nav, both of which come with the new R110 electric motor and the Z.E 40 battery that provides a 186-mile real world range. For customers more likely to use public rapid chargers whilst travelling longer distances, the Q90 option is still available with both trim levels. This charges the ZOE from 0-80 per cent full in just over an hour when using a 43kW charge point. The MY18 ZOE Q90 with Z.E.40 battery provides an estimated real-world range of 174 miles.
The now entry level Dynamique Nav offers a comprehensive specification, which combines comfort with convenience and safety with security. Standard features include hands-free keycard, automatic lights and wipers, rear parking sensors, cruise control, climate control, 7-inch R-Link infotainment system with voice-controlled TomTom sat nav, electric windows and LED Daytime Running Lights.
The top-of-the-range Signature Nav adds further luxury with features such as supple premium leather upholstery, BOSE®audio system, heated front seats, electrically folding door mirrors and a rear parking camera.
The new R110 motor is the latest in Renault's electric motor development and production strategy and is further evidence of its expertise as Europe's number one electric vehicle manufacturer. The R110 has been created specifically by Renault – an evolution of the R90, developed in just two years – and is made at the Cléon plant in Normandy having been designed by engineers based at both the Renault Technocentre and Cléon. In addition to carrying over the R90's outstanding energy efficiency, the R110 packs a combination of electrical machine- and power-related innovations that have yielded an extra 12kW with no increase in either weight or volume.
Since its launch in the UK in 2013, Renault has almost doubled the ZOE's range thanks to technological advancements such as an increased battery capacity and a more efficient motor. With the Z.E.40 battery, Renault estimates the ZOE's range in real-world driving conditions equates to around 186 miles in summer and 124 miles in cold winter conditions – the best range of any mainstream electric vehicle. ZOE can charge from zero to 80 per cent full in 60 minutes thanks to its patented Chameleon Charger™ that allows it to make the most of the widest range of power supplies and keep charging times to a minimum. Renault's Range OptimiZer technology ensures ZOE is highly efficient with its heat pump, a bi-modal braking system and Michelin ENERGY E-V tyres.
ZOE continues to be available to purchase in two ways. First, under a battery hire scheme, where ZOE pricing starts at £18,240 (OTR) after the Government Plug-in Car Grant, with battery leasing from £59 per month. It is easy to purchase a used ZOE with a battery lease – the new owner simply chooses which leasing option suits their needs the best and starts monthly payments based on their lease plan. You can also buy the ZOE outright. ZOE i 'full purchase' models start from £24,020 (OTR) after the Government Plug-in Car Grant, giving the buyer full ownership of the battery with no monthly battery lease payments.
Owners of the ZOE can reap financial as well as environmental rewards. The ZOE is eligible for the full Government Plug-in Car Grant of £4,500. Every ZOE purchased by a retail customer includes a free 7kW fast-charging wall-box with free home installation. Owners also benefit from zero Vehicle Excise Duty and can enter the London Congestion Charge Zone for free. For company car owners, purchasing a ZOE means there's no Benefit-in-Kind costs.
ZOE is the best-selling electric car in Europe and more than 6,000 ZOE have been sold since launching in the UK in 2013. More than 100,000 ZOE have been built to date. ZOE is one of three models in Renault's diverse electric vehicle range, which includes the Twizy quadricycle, the Kangoo Van Z.E. – Europe's best selling electric van – and the forthcoming Master Z.E. large panel van.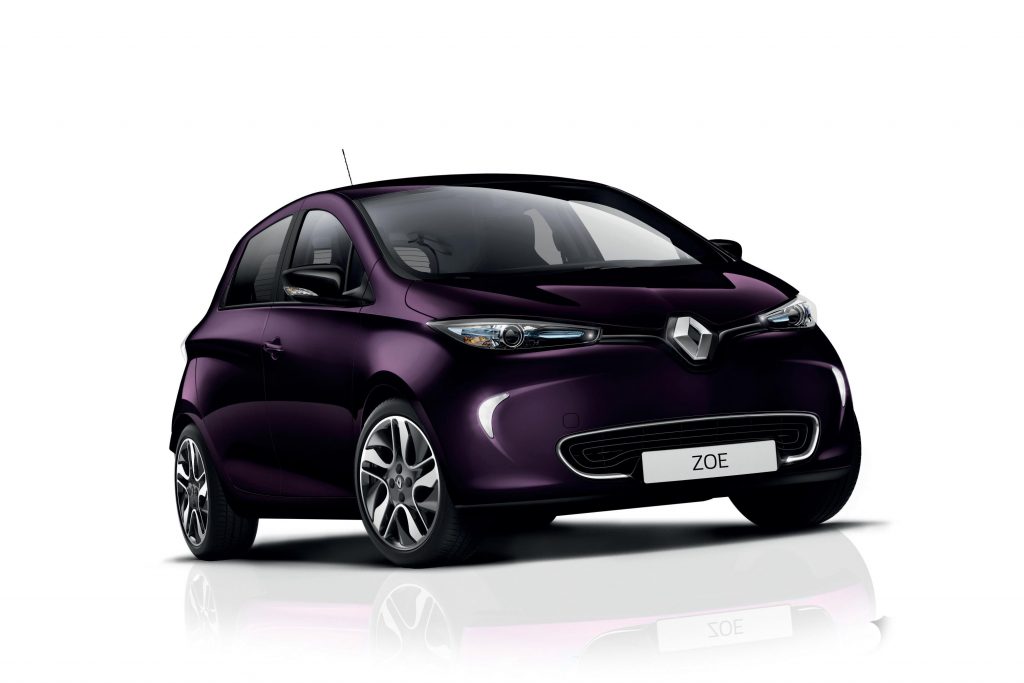 ZOE is a multi-award winning 100 per cent electric vehicle. Recent awards include:
Best Electric Car up to £20,000 – WhatCar? Awards 2018
Best Ultra Low Emission Car – FleetWorld Honours 2018
Electric Car of the Year – Company Car Today Awards 2018
Best SME Green Company Car – Business Car Manager Awards 2018
Best Used Electric Car – Diesel Car & Eco Car Magazine 2018
Best Small Company Car – Carbuyer Best Car Awards 2018
Best Eco Car – Parkers New Car Awards 2018
Game Changer – Autocar Awards 2017
ZOE owners benefit from combined peace of mind with a three year/100,000 mile warranty and UK roadside assistance offered.
Performance Information
ZOE version
Power

(hp @ rpm)

Torque

(Nm)

0-62mph (sec)
Top speed (mph)
Dynamique Nav R110 Z.E.40
107 @ 3,000
225 (from 250 rpm)
11.9
84
Signature Nav R110 Z.E.40
107 @ 3,000
225 (from 250 rpm)
11.9
84
Dynamique Nav Q90 Z.E.40
88 @ 3,000
221 (from 250 rpm)
13.5
84
Signature Nav Q90 Z.E.40
88 @ 3,000
221 (from 250 rpm)
13.5
84
Technical Information
ZOE version
Battery
Charge Time

(0-80%, 43kW charge
point)

Charge Time

(0-100%, 7kW at home)

Real-World Range

(miles)

(Winter)

Real-World Range

(miles)

(Summer)

Dynamique Nav R110 Z.E.40
80kWh
1h40
7h25
124
186
Signature Nav R110 Z.E.40
80kWh
1h40
7h25
124
186
Dynamique Nav Q90 Z.E.40
1h05
8h25
112
174
Signature Nav Q90 Z.E.40
1h05
8h25
112
174
Ownership Information & Pricing
ZOE version
BIK
VED (band)
Ins. group
Price

(after PiCG)*

Dynamique Nav R110 Z.E.40
7%
A
TBC
£18,420
Signature Nav R110 Z.E.40
7%
A
TBC
£20,670
Dynamique Nav Q90 Z.E.40
7%
A
TBC
£19,170
Signature Nav Q90 Z.E.40
7%
A
TBC
£21,420
*= plus monthly battery lease
Ownership Information & Pricing – Full Purchase
ZOE version
BIK
VED (band)
Ins. group
Price

(after PiCG)

iDynamique Nav R110 Z.E.40
7%
A
TBC
£24,020
iSignature Nav R110 Z.E.40
7%
A
TBC
£26,270
iDynamique Nav Q90 Z.E.40
7%
A
TBC
£24,770
iSignature Nav Q90 Z.E.40
7%
A
TBC
£27,020
Options
| | | | |
| --- | --- | --- | --- |
| Option | Dynamique Nav | Signature Nav | Price |
| Z.E. Connect contract extension (remote monitoring of battery) | ○ | ○ | TBC |
| Z.E. Interactive (remote battery charging & remote activation of air-con / heater) | ○ | ○ | £150 |
| Quick Charge Option to 80% in 65 mins (NEDC range limited to 230 miles) | ○ | ○ | £750 |
| 17-inch 'Tech Run' alloy wheels | ○ | ○ | £310 |
| Metallic Paint | ○ | ○ | £550 |
| Renault i.d. Paint (Metallic) | ○ | ○ | £650 |
| Renault i.d. Paint (Non-Metallic) | ○ | ○ | £225 |
| Blue interior touch pack | ○ | – | £175 |
| Purple interior touch pack | ○ | – | £175 |
| BOSE® audio system | ○ | STD | £250 |
| Western European mapping | ○ | ○ | £110 |
| R-Link LIVE Services 3 year subscription | ○ | ○ | £125 |
| Heated front seats (3 settings) | ○ | STD | £250 |
| Rear view camera | ○ | STD | £250 |