The Renault UK Clio Cup Junior championship has released race dates for its six-event calendar in 2018.
Silverstone, Rockingham, Donington Park, Snetterton, Croft and Brands Hatch – all circuits raced on by the senior Renault UK Clio Cup and British Touring Car Championship – are on the calendar which starts in March and concludes in November.
Significantly no races will take place in May or June so as to allow drivers to study for and sit exams. The category is for drivers aged 14 to 17 years old.
Two races (rounds) will be held at each event making for a 12-round calendar in total. The dates are: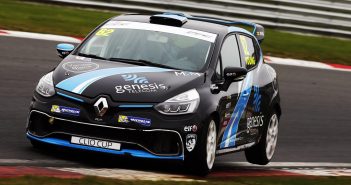 Rounds, Date, Circuit
1&2, Sat 24//Sun 25 March, Silverstone (National), Northamptonshire
3&4, Sat 14/Sun 15 April, Rockingham, Northamptonshire
5&6, Sat 21/Sun 22 July, Donington Park, Leicestershire
7&8, Sat 8/Sun 9, September, Snetterton, Norfolk
9&10, Sat 22/Sun 23 September, Croft, North Yorkshire
11&12, Sat 3/Sun 4 November, Brands Hatch, Kent
Meanwhile the registration fee for 2018's Renault UK Clio Cup Junior championship has been confirmed at £5995.00 + VAT. Registrations will open on 1 January and can be lodged with Renault Sport's UK Motorsport Championship Manager Will Fewkes: Email will.fewkes-extern@renault.co.uk or Tel +44 (0)7894 317477.
UK Clio Cup Junior will also share its 2018 Media Day with the senior Renault UK Clio Cup at Silverstone on Thursday 15 March. Media wishing to attend should inform championship Media Officer Carl McKellar: Email carl.mckellar-extern@renault.co.uk or Tel +44 (0)7786 138905.
Notably the Renault UK Clio Cup Junior championship's cars already meet new 2018 safety standards in junior-level competition as required by UK motor sport's governing body the Motor Sports Association.
The cars are near identical to those used in the senior UK Clio Cup. The only changes (via an ECU modification) are a 100mph speed limit and five gears instead of six, plus a switch to high-performance Michelin road tyres instead of racing 'slicks'.
UK Clio Cup Junior's inaugural season took place in the UK between September and November 2017 with races at Snetterton, Brands Hatch and Pembrey. Jack Young (Belfast) won the title driving for the MRM Racing team.
A Selection From Amazon
Last updated on August 3, 2023 3:18 am