With the recent announcements about investment in driverless cars there is one automotive manufacturer which thinks differently.
Mazda research carried out by Ipsos MORI reveals that the joy of driving is alive and well in the UK, with 71% of people surveyed saying they would still want to drive, even with self-driving technology available, whilst only 29% actively welcome the arrival of autonomous vehicles.
Mazda believes driving is a skill that people want to keep, it is an activity that can be fun as well as functional and many would like to see this skill retained for future generations.
The Mazda view is that autonomous driving technology should act as a co-pilot, available when needed to avoid accidents, but with the driver in control of the driving process allowing the pure exhilaration of driving and the freedom it represents to be experienced by our customers.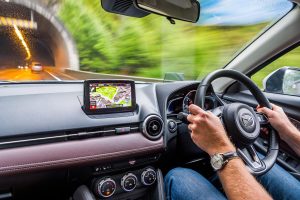 The research – which was commissioned as part of Mazda's Drive Together campaign –polled 11,008 adults across key European markets, including 1,002 in the UK, and reveals that across those countries an average of 66% of drivers wanted to remain behind the wheel even if self-driving cars become widely available.
Interestingly, there is no evidence of greater support for self-driving cars in younger age groups across Europe: for example 18-24 year olds (33%) were no more likely to welcome self-driving cars than 25-34 year olds (36%) or 35-44 year olds (34%).
The research also reveals a significant emotional connection between car and driver as demonstrated by the following statistics: 70% of drivers questioned in the UK "hope that future generations will continue to have the option to drive cars", while 62% of respondents stated that they have driven "just for fun" and 81% of those who enjoy driving saying it is because it "gives them independence".
In addition 55% stated that driving is about much more than just getting from A to B and 39% agree driving is in danger of becoming a "forgotten pleasure".
Mazda UK Managing Director Jeremy Thomson said, "It's heartening to see that so many British drivers still love driving – yes, self-driving cars are coming and yes they have a role to play, but for us, there is nothing quite like the physical pleasure of driving; the quickening of the pulse, the racing of the heart, the open road, the special moments to treasure and share".
"At Mazda we believe in putting the driver at the heart of everything we do and our current 'Drive Together' campaign focuses on the bond between car and driver. We call this Jinba Ittai, which is the Japanese phrase used to describe the perfect harmony between horse and rider. It is this human-centric philosophy that underpins our business and helps us create cars that bring the driver and their car closer together".
Adding, "If you look at the car industry in general, we believe that many manufacturers are taking a lot of driving pleasure away from drivers. At Mazda we are fighting against this and it's clear from the research that there's still a huge percentage of drivers who just want to be behind the wheel. In a world that questions the act of driving and devalues the role of the car and the role of the driver through technological changes, we will continue to challenge convention for the love of driving".
"Our aim is a motorised society free of traffic accidents, and we will help achieve this by continuing to advance the safety fundamentals – driving position, pedal layout, visibility and our Active Driving Display, and we will also continuously develop, update and make standard our advanced safety features. Additionally, we aim to make the Mazda Co-Pilot Concept, which uses autonomous driving technologies to allow drivers to enjoy driving with peace of mind, standard by 2025."
Further findings from the research show that 54% of Europeans questioned have been for a drive "just for fun", whilst 55% agree driving with family or friends can be a "special experience", while in Spain, Italy, Sweden and Poland this figure rises to more than six in ten drivers.
Comparisons with other activities are also revealing with 37% preferring driving for fun to computer games, 23% choosing driving compared to a drink in a bar or playing sports, with the latter as high as 37% in the UK.