New 200 mph ALPINA B5 Bi-Turbo Touring is expected to be the world's fastest estate
With a top speed beyond 200 mph, the new ALPINA B5 Bi-Turbo Touring is expected to be the world's fastest production estate, offering a unique combination of comfort, luxury and ultra-high performance. Available in the UK from £91,000 (Saloon £89,000), the B5 Bi-Turbo sets a new price point for entry to the 200 mph club. Both cars are powered by ALPINA's 608 hp V8, first seen in the B7 Bi-Turbo launched mid-2017, have full BMW Warranty support and are available with an almost limitless range of bespoke ALPINA interior finishes crafted at the company's saddlery in Buchloe, Germany.
The result of thousands of hours of development at ALPINA's R&D centre and on roads from Death Valley to the Arctic Circle, the new B5 Bi-Turbo provides a combination of comfort, performance and driving pleasure that the manufacturer believes is unrivalled by any other production saloon or estate.
"Our cars are for driving enthusiasts who value a blend off qualities that can only be delivered by immense attention to detail and a single-minded focus on one type of owner," explains ALPINA GB's Jonathan Noy. "The B5 Bi-Turbo is built with just one powertrain and one chassis specification, which allows our engineers to calibrate every component and every control system to work perfectly together without compromise. ALPINA's dynamics specialists have spent months honing the chassis, not hurling it around a race track but simply driving as customers would, on roads, enjoying every mile however fast or slow. The result is a pin-sharp driving experience combined with remarkable ride quality."
The ALPINA B5 Bi-Turbo is an evolution of the latest (G30) BMW 5-Series, which provides the company with a state-of-the-art, high-technology development platform. To help achieve this impressive combination of performance, comfort and driving dynamics, ALPINA's 70-strong engineering team has received exceptional access to BMW design data and technical facilities as part of a relationship that reaches back to 1964, when BMW endorsed the quality of ALPINA products by awarding the full factory warranty to all BMW ALPINA vehicles. All current ALPINA BMWs carry a BMW-endorsed three year / 120,000 mile warranty.
WHEN YOU CLICK ON LINKS TO VARIOUS MERCHANTS ON THIS SITE AND MAKE A PURCHASE, THIS CAN RESULT IN THIS SITE EARNING A COMMISSION. AFFILIATE PROGRAMS AND AFFILIATIONS INCLUDE, BUT ARE NOT LIMITED TO, THE EBAY PARTNER NETWORK AND AMAZON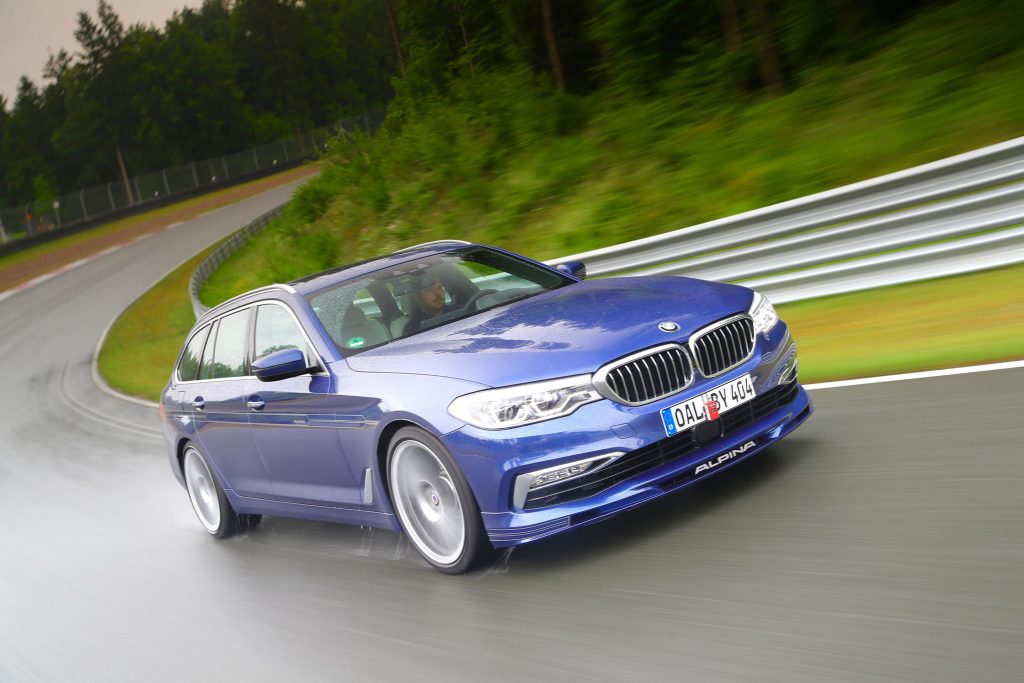 High-Torque Powertrain
The heart of the new range is ALPINA's substantially revised version of BMW's N63TU2, 4.4 litre V8. To increase the power and torque without compromising responsiveness, particular attention has been paid to airflow optimisation, with a new wide-bore intake system providing shorter intake paths and optimised radii to allow near-instant throttle response. The standard turbochargers have been replaced by two specially-developed, twin-scroll turbochargers located between the cylinder banks, operating in parallel to deliver up to 1.4 bar with minimum inertia. Enlarged inlet and outlet diameters further improve gas flow, contributing to a wide, flat torque curve and excellent throttle response even at low engine speeds. By 2,000 rpm, the ALPINA V8 is already generating 670 Nm (494 lbft) of torque, swelling to an astonishing 800 Nm (590 lbft) plateau from 3,000 – 5,000 rpm.
A new indirect intercooler system (air/water/air) further improves both power and responsiveness, with a main intercooler feeding the two large-volume, close-coupled intercoolers. Together with two additional water radiators and one additional oil cooler, the system ensures the thermodynamic stability of the V8 Bi-Turbo engine, even under the highest sustained loads and most aggressive ambient air temperatures. To help ensure stable performance and long-term durability, pistons and spark plugs are uprated to ALPINA specifications.
"Managing heat is critical to ensuring consistent responses, low emissions and long-term durability," Noy explains. "ALPINAs are designed to be driven very fast over long distances. These are practical supercars to enjoy every day."
The same philosophy has been applied to the braking system. The rear brakes are larger than the front's because they receive less cooling air, so need a larger surface area to shed heat. The increased surface area also allows them to share more of the braking load. ALPINA says their system provides greater retardation and resistance to fade than many equivalent ceramic systems, with excellent consistency and feel across a wider range of temperatures.
The eight-speed automatic transmission also receives additional cooling, alongside a host of modifications that include strengthened gear clusters and a larger torque converter. ALPINA's work with transmission supplier ZF is another reason for the exceptional acceleration of the new B5 Bi-Turbo. The result of extensive analysis to ensure durability at high mileages, its immense strength means that the torque reduction commonly applied during upshifts is not required. Ratios can be swapped in just one tenth of a second. The new 205 mph B5 Bi-Turbo Saloon will hit 60 mph in 3.4 seconds, with the Touring just 0.1 seconds behind.
Dynamics optimised for driving pleasure
Power is delivered to the road by BMW's four wheel drive system; a first for the ALPINA B5, thought necessary to safely handle the prodigious torque in the greatest variety of conditions. To ensure a traditional sporting feel, up to 90 percent of the torque can be sent to the rear wheels. The system continuously monitors a wide range of inputs, including steering angle, lateral acceleration, yaw angle and speed, allowing the ALPINA-optimised software to distribute torque for maximum grip and safety. For even greater control and stability in difficult conditions, a mechanical limited slip differential, fully integrated with the traction control system, is available as an option.
Another first for an ALPINA B5 is Active Rear Steering, which enhances steering response by turning the rear wheels up to 2.5 degrees the opposite way to the front wheels at low speeds and the same way at higher speeds. The new model also has active roll stabilisation (Dynamic Drive), which employs a new generation of high-speed electronic actuators to optimise roll stiffness, improving both dynamics and ride quality. The system is optimised to enable the very best performance from this unique chassis configuration, taking into account details such as the kinematics of the ALPINA light-weight 20" forged alloy wheels shod with specially-developed 'ALP' labelled Pirelli P-Zero tyres.
Despite the addition of four wheel drive and other complex new systems, the 2018 B5 Bi-Turbo is around 30 kg lighter than the previous generation car.
With immense attention to detail, ALPINA engineers have also created bespoke front wishbones with one degree of negative camber to improve turn-in and steering feel, complemented by new ALPINA control software for the electric steering. Shorter, stiffer springs sharpen body control while also lowering the centre of gravity and enhancing aerodynamics. Bespoke adaptive dampers offer drivers a choice of settings including a new Comfort Plus mode developed by ALPINA to provide very high levels of ride comfort. Touring models replace the rear coil spring with ALPINA-optimised air suspension to ensure a consistent ride height.
Aerodynamics have been optimised in BMW's wind tunnel and are enhanced by unique ALPINA front and rear spoilers that substantially increase airflow through the uprated cooling system. The bespoke look is further enhanced by a four-outlet, light weight stainless steel sports exhaust system that has been tuned to reduce back pressure as well as providing a choice of two driver-selectable, bass-focussed sounds.
Luxurious, hand-crafted interiors
Inside, the new B5 Bi-Turbo can be specified with an almost limitless range of options and leather trims, individually-crafted in ALPINA's saddlery. Standard equipment on UK-market cars includes soft Nappa leather, ceramic-finish control surfaces, ALPINA roundels on the seat backs and a rear view camera. Door sills are accented by ALPINA Blue illumination of the B5 model inscriptions coordinating with interior ALPINA Blue mood lighting and instruments. The sports steering wheel is hand-finished in Lavalina leather with blue and green signature stitching to provide a luxurious feel while retaining the firm rim preferred by skilled drivers.
Unique ALPINA finishes include paint in ALPINA Blue or ALPINA Green, complementing the full range of BMW and BMW Individual finishes, all of which can be specified with ALPINA's iconic Deco-Set along the sides and on the front spoiler. Unique ALPINA interior finishes include new Luxury Wood Walnut Nature, the rough cut surface of which is described by the manufacturer as 'warm and modern at the same time'. The interior of each car is finished with a unique, numbered production plaque on the centre console.
Half a century of bespoke cars
ALPINA Burkard Bovensiepen KG was established on the 1st of January 1965 in Kaufbeuren. Two years later it adopted the now-famous badge featuring a twin-choke downdraught carburettor and a crankshaft on a shield; a proud symbol of the company's dedication to superb engineering.
Although today the company is focussed largely on road cars, its ethos has been formed by decades of racing success with a driver roster that includes Derek Bell, James Hunt, Jacky Ickx, Niki Lauda, Brian Muir and Hans Stuck. Throughout this time, the close relationship with BMW was developing, with factory support for road car development and collaboration in motorsport that included commissioning ALPINA to develop the light weight race car that became the now-legendary BMW 3.0 CSL.
Today, ALPINA is one of the world's leading manufacturers of high-performance luxury automobiles, selling on every continent yet still in numbers small enough to allow each car to be bespoke. Fewer than 100 cars a year are sold in the UK.
"ALPINA is a company that creates subtly stylish, very high performance cars that can be tailored to each customer's personal requirements, yet offer the long-term comfort and durability required for enthusiastic daily use," comments CEO Andreas Bovensiepen, son of the company's founder Burkard Bovensiepen. "We have a unique philosophy and a commitment to engineering excellence that we intend to maintain and build on across the next 50 years."
Configure your ALPINA at www.alpinaconfigurator.co.uk
Follow ALPINA GB on Twitter @ALPINAgb
Join the ALPINA Facebook community www.facebook.com/AlpinaGB
www.bmwalpina.co.uk