Imagine our delight (and hopefully yours) at stumbling across these incredible Toyway 1:12 Die-Cast models of the iconic Mk1 Raleigh Chopper, brought to the UK market by Bachmann Europe PLC.
For those of you who are too young to know, or lived under a rock during the 1970's, the Raleigh Chopper was an incredibly cool bike for children the likes of which had never been seen before.  The bike has since become a cultural icon and is fondly remembered by many who grew up in that period including myself.  The bike was manufactured and marketed in the 1970's by the Raleigh Bicycle Company of Nottingham, and was an expensive bike on sale for £34 and 19 shillings.  That's about £500 in today's money. These Raleigh Chopper Mk1 models are somewhat cheaper!
Perhaps you were lucky enough to own one or were the recipient of an older siblings cherished wheelieing wonder.  I borrowed my friend's to ride and felt awesome for 5 minutes, but to be honest they were quite slow and pretty hard to ride, especially up hills!   I inherited my brother's red bashed up Raleigh Grifter, so never got the opportunity to own one myself.
The models are fine representations of the original and even the steering and pedals work.  The Choppers are currently available in Golden Yellow, Brilliant Orange, Brilliant Blue and Black.  Needless to say we at MotoringDeals.com couldn't resist and have just brought one from eBay for the office! We'll add some photos at some point, no doubt!
Various sellers have these for sale on eBay. CLICK HERE to view them and choose your colour!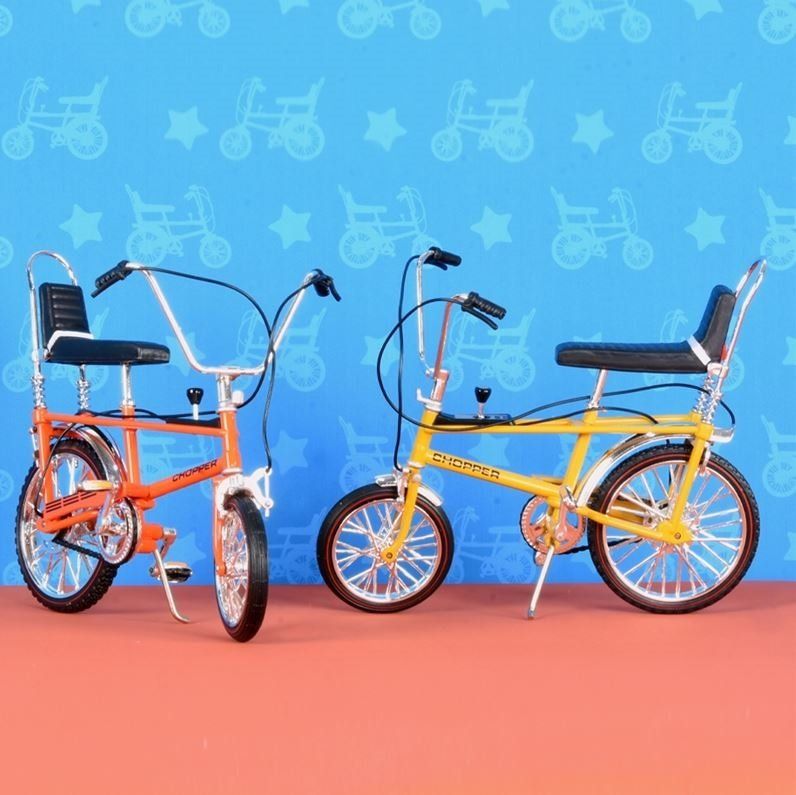 Here is a video showing the models in more detail…