Power, Right When You Need It
The SIP RESCUE PAC 3000 would probably be classed as a mid-range jump pack and generally retails under £250. According to the SIP website, its RRP as of 21/12/17 is £292.79.
Getting caught out with a flat battery is never a good thing and, let's face it, it never happens at a 'good time'. Usually, you want to just get moving again as quickly as possible. More often than not, a battery is fine again after a good charge.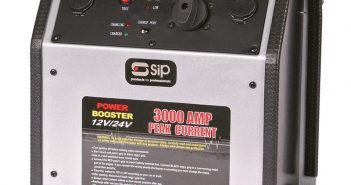 The SIP RESCUE PAC 3000 caters for both 12v and 24v vehicles, making it a versatile piece of kit, and has a 1200Amp/600Amp cranking rate accordingly. It should crank over pretty much anything you want it to!
The reverse hook-up alarm feature could prove handy, especially in the dark. You don't want to be connecting to the wrong battery terminals. The two 12v output sockets are also handy – I've used a similar thing on my own jump pack to power sat-navs when the car socket has blown a fuse!
The SIP RESCUE PAC 3000 is CE Approved, giving you piece of mind that no nasty surprises are in store. Be wary of cheap electrical items on the market that aren't thoroughly tested.
With its steel case and tough plastic base, this jump pack / boost pack should give many years of good service. Just remember to keep it charged every three months.
Pricing
We spotted the SIP RESCUE PAC 3000 at just under £225 on eBay today. Prices change all the time, so CLICK HERE to see what the latest eBay deals are.