McLaren Mania
The superlative Silverstone Classic has witnessed yet another momentous world record. The latest landmark – the largest parade of McLaren cars – wowed visitors to last summer's spectacular event and has just been officially ratified by the adjudicators at Guinness World Records.
In total, an unprecedented 115 McLaren supercars took to the famous Silverstone Grand Prix circuit on Sunday 30 July to establish the new criterion.
The peerless parade was organised by the McLaren Owners Group to mark what would have been company founder Bruce McLaren's 80th birthday.
Back in the sixties, McLaren was a racing legend winning Le Mans, two Can-Am titles and four Grands Prix before tragically losing his life aged just 32 in an accident when testing a sportscar at Goodwood in 1970. It is as a racing car constructor, however, that he is best remembered – and where the McLaren name lives on.
The history books reveal that the team he founded has won no fewer than 20 F1 World Championships – 12 for drivers, eight for constructors – and 182 Grands Prix. McLaren cars have also won Le Mans and the Indy 500 and, today, the badge adorns some of the world's finest GT road cars.
Fittingly, the world record parade featuring such an amazing assembly of the company's latest generation of showroom supercars, was led by Bruce's only child, Amanda. She was just four years old when her father lost his life but is still connected to the company as a McLaren Brand Ambassador.
"We are thrilled at receiving the confirmation from Guinness World Records – seeing the certificate brought home the real significance of our achievement," said a delighted Jeff Vaudrey, administrator of the McLaren Owners Group. "We knew around 60 McLarens had gathered together in Japan and felt we could top that number – but to nearly double it was well beyond our initial hopes and huge credit to all involved."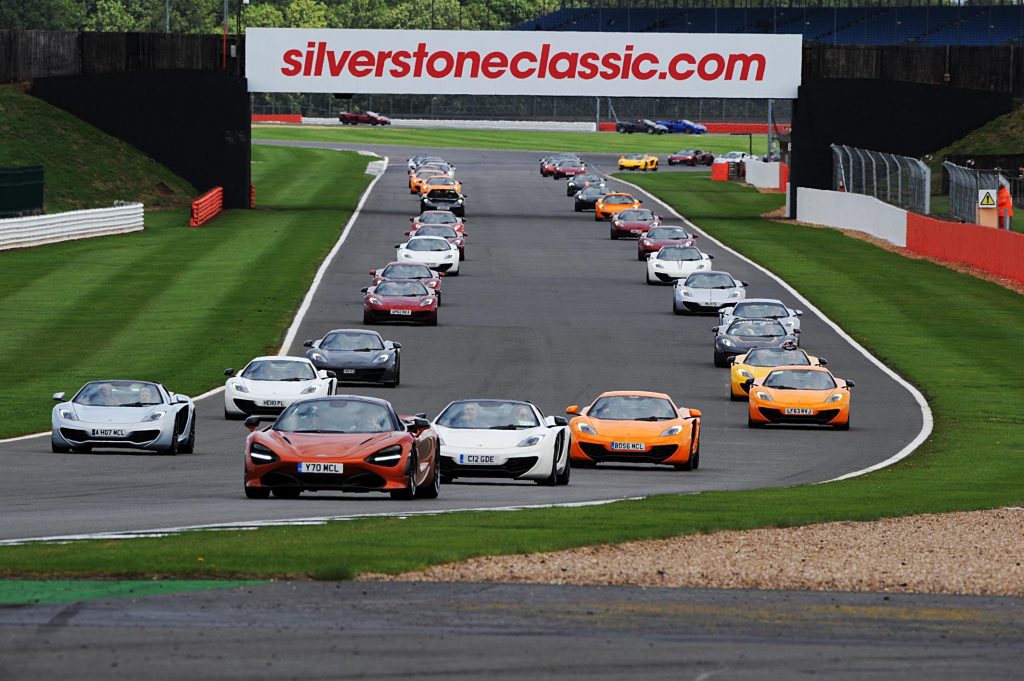 Other Records
As the world's biggest classic motor racing festival, the Silverstone Classic has amassed many remarkable records in recent years. It is already in the Guinness Book of Records for staging the biggest-ever parade of Jaguar cars when 767 E-types took to the track to mark the automotive icon's 50th anniversary in 2011. The colossal event has also staged unsurpassed parades of Grands Prix cars, Porsche 911s and, again last year, Jaguar XJ220 hypercars. More outstanding displays are planned for this July, too.
"While the Silverstone Classic is famous right around the globe for the incomparable numbers of wonderful historic racing cars competing in the packed programme of races, its reputation for hosting these record-breaking parades just keeps growing and growing, too," extolled Nick Wigley, CEO of Goose Live Events, organiser of the Silverstone Classic. "McLaren, of course, is a magical name in motor sport and we congratulate all those involved on achieving this new Guinness World Record. It's another feather in all of our caps!"
Many of the track parades are organised in conjunction with the ever-growing number of enthusiastic classic car clubs taking advantage of special ticket offers to be an integral part of the massive showcase at Silverstone.
Members of clubs registered with the Silverstone Classic (a simple online process) are offered a special Car Club Display package which includes two adult general admission event tickets plus an infield vehicle display pass. This enables classic car owners to park on their club's allocated stand right at the heart of the event and thus be a major part of the record-breaking three-day extravaganza.
Cost-saving Early Bird tickets available until the end of March
Visitors wishing to experience this mega-turnout of classic road and race cars can take advantage of a range of Early Bird ticket offers. All tickets for Silverstone Classic must be purchased in advance and, for those buying before 31 March, adult admission begins at £37.
Once again, all advance tickets will provide access to both Silverstone racing paddocks, all open trackside grandstands, live music concerts on the Friday and Saturday evenings, air shows, funfair rides and the vast majority of the family entertainment on offer. Options on camping and hospitality are also available. Full details of all 2018 ticket prices are detailed on the silverstoneclassic.com website.