Stunning 1967 Lamborghini Miura SV could fetch €1,500,000
International auctioneers Coys are putting under the hammer 115 classic cars worth over €20 million at their Techno Classica Essen auction on March 24th in Germany.
Chris Routledge, CEO of Coys, said: "We are proud to return to Essen Techno Classica for another high quality auction. This is one of the world's most important historic motor car events and as the leading international auction brand in Germany we have put together a multi-million euro offering featuring some of the most beautiful cars ever built."
The auction features a number of classics from an important single owner collection inspired by legendary films, including an exceptional Lamborghini Miura SV like the one in The Italian Job.
The 1967 Lamborghini Miura SV was delivered new to Portugal in 1967 and subsequently converted by the factory to full SV specification in 1974. The conversion is documented with period correspondence and invoices. The Lamborghini was fully restored in 2008 with further works being completed by a marque UK specialist in recent times. Finished in Arancio orange, this beautiful example of the genre-defining supercar of the 1960s is estimated at €1,100,000 to €1,500,000.
WHEN YOU CLICK ON LINKS TO VARIOUS MERCHANTS ON THIS SITE AND MAKE A PURCHASE, THIS CAN RESULT IN THIS SITE EARNING A COMMISSION. AFFILIATE PROGRAMS AND AFFILIATIONS INCLUDE, BUT ARE NOT LIMITED TO, THE EBAY PARTNER NETWORK AND AMAZON
1928 Bugatti T 44 Fiacre By Gangloff
The sale also features a 1928 Bugatti T 44 Fiacre By Gangloff, a very rare survivor of only a handful remaining models, which was once owned by the well-known collector and author of many Bugatti books, Mr Uwe Hucke, in the mid 1960`s. He kept Chassis No. 441141 until 1977 when he sold it to Mr. Helmut Schellenberg, the famous 1930's Bugatti racing driver (€500,000 – €550,000).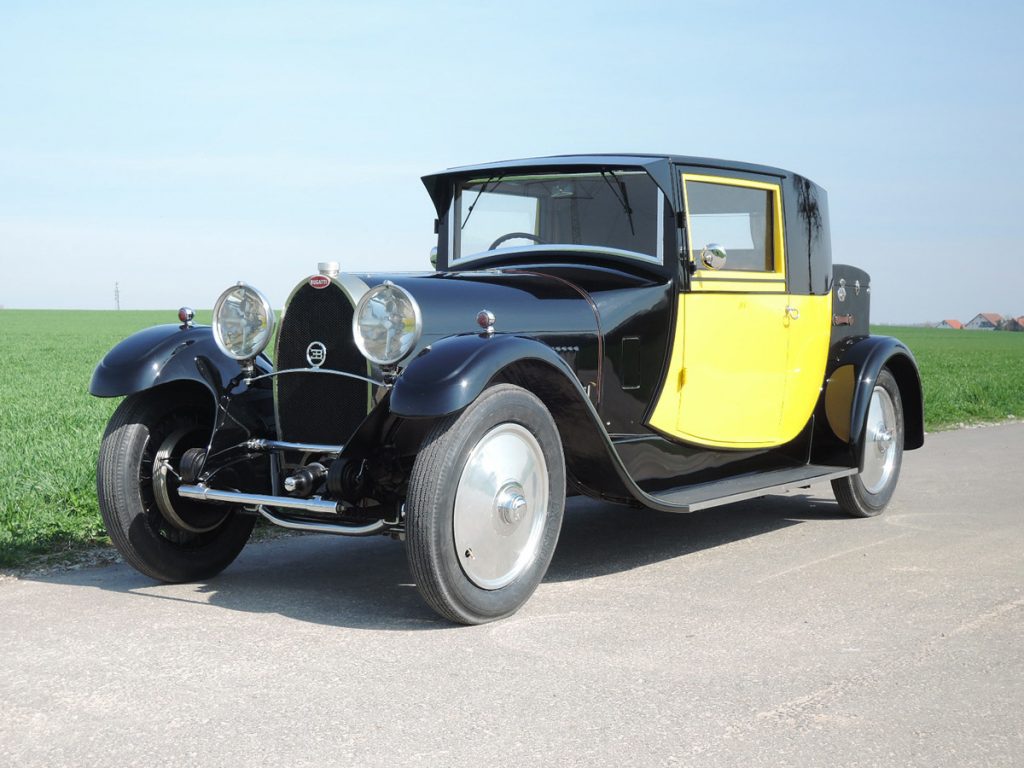 For the historic racing collector, Coys are offering at no reserve a 1936 Brooke E.R.A. Monoposto. This hugely famous pre-war racing car with Brooklands and Grand Prix history comes complete with the original 1936 Bedford WS race transporter and a comprehensive spares package.
German marques feature heavily in the catalogue with high quality entries such as a 1988 Mercedes-Benz 300SL 'Gullwing' Evocation by Anton 'Tony' Ostermeir (€260,000 – €320,000), a 2011 Porsche 997 GT3 4.0 (€370,000 – €430,000), a 2013 Mercedes Benz SLS Roadster AMG (€180,000 – €200,000), a 1989 Porsche 911 Speedster (€150,000 – €200,000) and a 1955 Porsche 356 Pre A Speedster 1600 Super engine (€290,000 – €340,000).
One of the German gems on offer is a 1952 Porsche 356 Pre-A 1500 Coupe. This model was comprehensively restored and is one of the first one-piece "Bent" windscreen and synchronised transmission examples (€250,000 – €300,000).
Other cars going under the hammer include a 1957 AC Ace Competition Car with period race history in the United States and Germany (€300,000 – €400,000), a 1978 Lamborghini Espada Series III (€110,000 – €150,000), a 1937 Cord 812 Supercharged Cabriolet (€150,000 – €200,000), a 1967 Ferrari 330 GT 2+2 Series II in rare Rosso Cordoba (€250,000 – €350,000), a recently restored left hand drive 1957 Aston Martin DB2/4 (€250,000 – €300,000) and a 1972 Ferrari Dino 246 GT (€250,000 – €300,000).
EVENT DETAILS
Event:                            Essen Techno Classica
Location:                      Messe Essen, Norbertstraße 2, 45131 Essen, Germany
Date:                              Saturday 24th March 2018, 1:00pm
Viewing                        Wednesday 21st March from 2.00pm to 8.00pm
Thursday 22nd March from 9.00am to 6.00pm
Friday 23rd March from 9.00am to 7.00pm
Full catalogue: www.coys.co.uk/techno-classica-essen-2018