Silverstone Auctions has opened its catalogue for entries to the Lancaster Insurance Classic Motor Show with a very rare and important car from British motorsport, the ex-works Triumph TR2 which finished 19th at the 1955 Le Mans.
The Triumph TR2 was launched in 1952 and was soon in great demand becoming very successful in motorsport competition. Motorsport was a great way for manufacturers to promote their cars and in 1954 a TR2 was privately entered into the Le Mans 24 Hours race and finished a credible 15th.
This prompted Standard-Triumph Ltd to enter a works team in 1955 with three cars all in the British Racing Green colours with consecutive number plates PKV 374, PKV 375, PKV 376.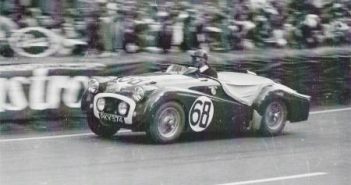 The car offered is one of these three works cars, PKV 374, driven by Leslie Brookes and Mortimer Morris-Goodall to 19th place in the 1955 Le Mans 24 Hours race and for a long time was the sole surviving works car.
Sadly the 1955 Le Mans race will be remembered for the huge accident that claiming the lives and injuring many people. Despite the accident, the race continued, and the TRs were running well with PKV 374 easily the fastest of the MGs and TRs averaging 90 mph according to the June Autosport of that year.
PKV 374 had an eventful race, with the car taking an excursion into the gravel trap where it got beached. But after 2.5 hours it was back on track and returning to the pits. For the rest of the race, the car continued with gear selection troubles but still managed to finish 19th just behind the other two works cars.
The late King Hussein of Jordan took a fancy for PKV 374 and whilst the other two cars head back to Coventry PKV 374 was sold to the King and left the circuit straight for Jordan in full Le Mans race trim. In 1956 the King brought the car back to the UK and at the time it was in the Jordanian colours of blue and white with luxurious upholstery. In November of that year, the King sold the car.
After changing hands several times, the car was purchased by the present owner in 1972 which was by now in a poor state and set about restoring the car over a long period of time to its original Le Mans specification.
In 2000 PKV 374 was finally finished and went on to successfully complete the London to Istanbul leg of the Around The World In 80 Days rally. This was the start of the car's modern era of competition, as it took part in many HERO rally events before it was decided to return the car to Le Mans in 2005 for the One Hour Legends
Race and driven by Tony Dron and Nick Marsh where it suffered fuel issues and retired after 6 laps. Not to be outdone, it returned the following year and finished 5th in class and 23rd overall.
PKV 374 is now being offered with an amazing history, photographs, articles, magazines, race reports and it's old FIA HTP papers which are now out of date. Offered at £100,000 to £140,000 this is a rare and significant car which is not just any Triumph, but an ex-works car and now offering a unique opportunity to own and compete in exclusive events such as Goodwood, Le Mans Classic and many more.
Adam Rutter Classic Car Specialist for Silverstone Auctions commented: "There is so much history with this car and after 47 years of private family ownership, the car is on the next stage of its adventure, of which it is no stranger."
"It has been in storage for four years and is now up and running but may require some further fettling to prepare it for competition. The history file is massive there must be at least 6 box files plus folders and other boxes of articles. The car is now in our care and available for private viewings prior to the auction."
This is the eighth year that Silverstone Auctions have been the official event partner of the Lancaster Insurance Classic Motor Show. With consignments now being invited, Silverstone Auctions have a number of important cars already consigned with four different Aston Martins and an Evanta DBR1 Evocation alongside the ex-works Triumph TR2.
With Aston Martins always proving a popular choice, Silverstone Auctions are proud to be offering such a wide choice of cars including a 1950 DB2 Washboard one of the 49 three grilled examples estimated at £390,00 to £450,00, a 1965 DB5 that was the actual car featured on the Royal Mail Stamp in 2013 at £580,000 to £650,000, a 1966 DB6 at £250,000 to £3000,000, and a V8 Vantage Volante estimated at £170,000 to £190,000.
The Evanta DBR1 Evocation is estimated at £50,000 to £60,00 and was built by the Evanta Motor Company which at the time was owned by Ant Anstead of Wheelers Dealers fame.
Silverstone Auctions are accepting cars for their Classic Motor Show auction on the 9th and 10th November and can be contacted on 01926 691141 or email enquiries@silverstoneauctions.com and would be happy to talk with you and help you through the process of consigning your car, closing date is the 15th October.
On each day, the automobilia, lifestyle and watches auctions start at 11am and the car auction starts at 2pm. (Remembrance Sunday 10th November, the automobilia auction will begin at 11.05am)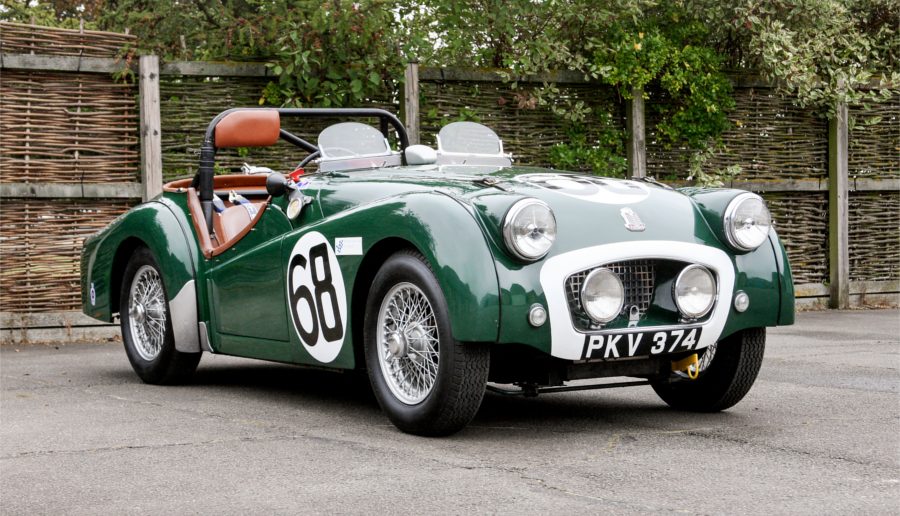 A Selection From Amazon
Last updated on September 18, 2023 12:12 pm