Moving motor show with more than 50 of the world's rarest of wackiest classic cars
The record-breaking London Classic Car Show (15-18 February, 2018) just gets bigger and bigger – this year it has expanded to fill one complete side of the capital city's premier ExCeL exhibition venue.
One the secrets to the show's spiralling success is its innovative Grand Avenue, a ground-breaking all-action roadway running right down the middle of the show, along which more than 50 of the world's greatest classic road and competition cars will again be driven later this month.
It means The London Classic Car Show is no mere static exhibition but a living, breathing tribute to the automobile… where else can you see – and hear – Le Mans winners, Grand Prix racers, classic supercars and century-old veterans in action all under one roof?
This year's Grand Avenue show will focus on 'Specials' – limited editions, one-offs and prototypes all adding up to a delectable collection of unique street and competition cars renowned for their rarity, curiosity and desirability. The final line-up confirmed today certainly lives up to the exciting and enthralling billing, too!
Record number of F1 racers revving up indoors at ExCeL London
Taking the theme into account, it is no surprise that the icons performing dramatic demo runs indoors at ExCeL include a record number of Grand Prix cars including F1 winners raced in period by the great Stirling Moss and World Champions such as Graham Hill, Nelson Piquet and Michael Schumacher.
For many visitors, though, the seminal scarlet 1960 Ferrari 246 Dino will be the star performer – an example of the last traditional, front-engine car to win a Grand Prix.
Other standout motor sport machines revving up on The Grand Avenue include a stunning Alfa RLTF as raced by the legendary Enzo Ferrari and Alberto Ascari on the 1923 Targa Florio. Competition Jaguars are also well represented with XJ220 and XJR15 Le Mans sportscars as well as what is widely regarded as the most famous saloon racing Jaguar – the ex-John Combs entered Mk1 complete with its unique BUY 1 number plate.
While the track stars are out in force and sure to make their presence felt, they are outnumbered by a truly wacky and wonderful gathering of road cars.
Among the motoring pioneers are the brilliantly-monikered 1907 Stanley H4 'Gentleman's Speedy Roadster' and 1916 Packard Twin Six Typhoon. With a top speed of more than 80mph, the steam-powered Stanley was the hypercar of its era. Only two H4s were ever made and the only known survivor is coming to ExCeL from its home in the Isle of Man Motor Museum. The Typhoon is a one-off recreation of an experimental car built by Packard to set a new land-speed record of 103.5mph in 1915.
Historic 'Centre Steer' Land-Rover and twin-engined Mini join pioneers on parade
Two more remarkable homages will also be eye-openers at The London Classic Car Show. The first is an example of the original 'Centre Steer' Land-Rover (then hyphenated) prototype. Based on a 1942 Jeep, it featured a novel steering wheel mounted in the middle – an effort to serve all global export markets. The novel set-up, though, had little legroom and thus was dropped.
WHEN YOU CLICK ON LINKS TO VARIOUS MERCHANTS ON THIS SITE AND MAKE A PURCHASE, THIS CAN RESULT IN THIS SITE EARNING A COMMISSION. AFFILIATE PROGRAMS AND AFFILIATIONS INCLUDE, BUT ARE NOT LIMITED TO, THE EBAY PARTNER NETWORK AND AMAZON
The second is a twin-engined, four-wheel-drive Mini. Back in 1963, decades before Audi unleashed the quattro, BMC's Experimental Department created a pair of motor sport prototypes each armed with two standard 997cc Mini Cooper engines – one under the bonnet, the other in the boot.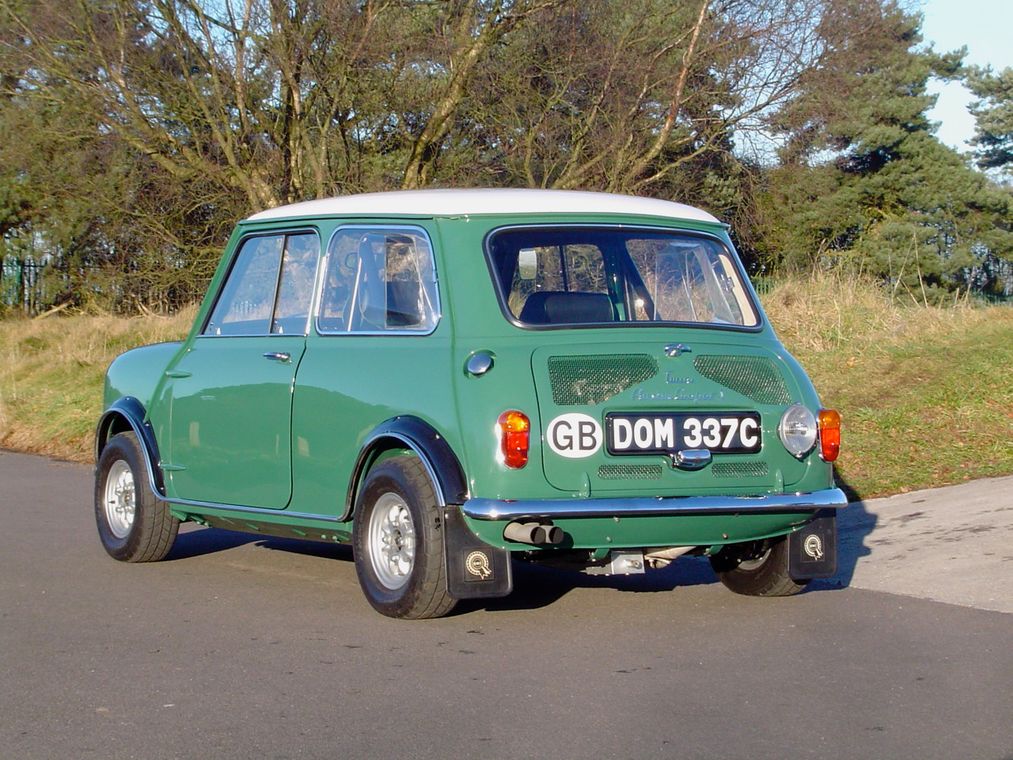 Adding further to the automotive intrigue, there is also a special category for classics with a more modern twist. Among these are a Ford Cortina Mk2 propelled by a V8 turbo engine pinched from a Lotus Esprit, an E-type inspired Eagle Speedster, a jaw-dropping 300+bhp MGB roadster from those at Frontline Developments, a seriously souped-up Renault 4 plus a glorious GTA coupe from those at Alfaholics.
Lovers of more conventional classics are in for a treat, too. Historians will savour the sole surviving 1939 Daimler DB18 Drophead Coupe – the very car used by Winston Churchill to address the crowds during his election campaigns in the darkest hours of the 1940s.
A pre-production 1959 Aston Martin DB4 is another of the many notable performers along with an eye-catching gathering of classic cars featuring European styling and American muscle. Rare marques under the spotlight include Facel Vega, Iso Griffo, Bitter, Gordon Keeble and a super-rare Intermeccanica Murena 429 GT.
A pair of very different Lamborghini V12s have also made the cut. The first a super-rare Miura SV Jota mid-engined exotic from the sixties, the second a 'Rambo Lambo' LM002 off-roader from the late 1980s.
"I think it's fair to say that we've massively over-achieved in rounding up such an incredible – and eclectic collection – of truly special machines," said Bas Bungish, Event Director. "At one extreme we have a unique vintage steam car from the dawn of motoring and a prototype Land Rover with its steering wheel in the middle, at the other extreme an unprecedented gathering of F1 cars. It's a mind-blowing collection that visitors will not only be able to see on static display but also hear as they rumble up and down The Grand Avenue."
Tickets on sale with significant reductions for those buying in advance
Those not wanting to miss such a diverse and dazzling showcase can take advantage of significant discounts on offer when booking tickets for the 2018 London Classic Car Show in advance. If purchased now, adult admission costs just £25 (£30 on the door) and a range of upgraded Premium and Family Tickets are also available online.
Moreover, all tickets also include entry to the London Classic Car Show's sister show Historic Motorsport International, which celebrates the UK's leading role in all areas of historic motor sport. Full details can be found on the show's official website – thelondonclassiccarshow.co.uk.