The search is on for Britain's highest mileage car after the UK's newest and brightest motoring magazine – Bargain Cars – acquired a 2001 Volvo S80 with an astonishing 717,000 miles under its wheels.
WHEN YOU CLICK ON LINKS TO VARIOUS MERCHANTS ON THIS SITE AND MAKE A PURCHASE, THIS CAN RESULT IN THIS SITE EARNING A COMMISSION. AFFILIATE PROGRAMS AND AFFILIATIONS INCLUDE, BUT ARE NOT LIMITED TO, THE EBAY PARTNER NETWORK AND AMAZON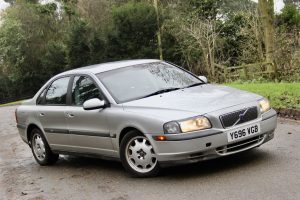 The diesel-engined Volvo was bought new in 2001 by a chauffeur doing VIP work and covered just under 400,000 miles in its first three years, before going on to be used as an airport taxi. Its original owner sold the car in 2016, since when it has had three further owners, the last of whom took it past 700,000 miles.
Now, Bargain Cars is trying to find out if there are any other cars on the UK's roads that can beat it.
Bargain Cars editor Peter Simpson said: "The Volvo is remarkable, not only because it is still going but also because it still drives really well – it's powerful, smooth and still quite tight. It goes to show that if you maintain a car well, it'll reward you with reliability.
"We'd love to know if there are any other cars out there with similar or higher mileages, and what they are."
Owners of mega-mile motors are encouraged to send details of their vehicles to Peter directly at peter.simpson@kelsey.co.uk
As for the Volvo, when coronavirus restrictions are lifted the Bargain Cars team plan to take the car on a round-Britain tour in order to put more miles on the clock, and they're committed to keeping it until the odometer shows at least three-quarters of a million miles.
Bargain Cars is a new monthly publication from Kelsey Media, publishers of Britain's oldest hands-on car magazine – Car Mechanics. In association with CM, Bargain Cars focuses on the buying and owning experience of high quality used cars and modern classics, from 1990 onwards.
It is put together by a team of expert motoring writers, photographers and publishers.
The second issue of Bargain Cars is on sale in newsagents now and also online at https://shop.kelsey.co.uk , It includes a host of features including how to enjoy a Porsche Boxster for just £5k, How to buy an alloy-bodied Jaguar XJ, the best coupés you can buy on a £5k budget, why the Fiat Panda is a cool cult modern classic and an in-depth road test on the Mk 3 Toyota MR2.
The newsstand price for Bargain Cars is a great value £3.99 but there's also a special £19.99 launch subscription offer available for a limited time here.
Keep on top of the latest bargain car developments by searching 'Car Mechanics Bargain Cars' on Facebook, and like or follow for updates and special offers, as well as to join the thriving new Bargain Cars community.