World renowned supermodel Yasmin Le Bon will combine her love of cars and resolve to support good causes by representing the Movember Foundation in this weekend's Bonhams London to Brighton Veteran Car Run supported by Hiscox (4 November).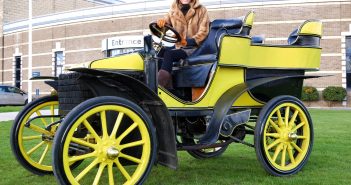 Le Bon, one of the most famous faces in the fashion industry over the past 30 years, will drive a 1901 Wolseley on the world's longest running and most revered motoring event.
On the hallowed 60-mile route from the capital's Hyde Park to Madeira Drive on the Sussex coast she will be joined by more than 400 other pre-1905 pioneering horseless carriages. As always it will be a remarkable voyage for all those celebrating the dawn of the motoring era.
In preparation for the start, which tradition dictates comes at a chilly daybreak on Sunday morning, Le Bon visited the British Motor Museum at Gaydon to take a short familiarisation test drive in the Wolseley.
Yasmin Le Bon said, "It's been a true honour to have a chance to drive the Wolseley as part of the Veteran Car Run. It's made me realise we have so many creature comforts that we take for granted when driving around in such modern, technological cars today, that it's easy to forget what a huge challenge motoring was back at the start of the last century. I'm now relishing my drive from London to Brighton on the famous Veteran Car Run and even more so, as I'm helping to raise awareness for the Movember Foundation, a great organisation addressing male health issues and to help stop men dying too young."
Ever since she was a young girl, Le Bon has been fascinated by cars and jumping aboard the venerable Wolseley for the celebrated trip from London to Brighton has certainly caught her imagination.
"My father has always loved cars, not only aesthetically and mechanically, but also for the simple reason that cars enable you to go on adventures," she explained.
In addition to the spirit of adventure offered by driving, two other qualities Le Bon admires about vintage cars are their unique design and evocation of a bygone era, when life moved at a more leisurely pace and people held onto their cherished cars for generations – both major virtues enjoyed by all those in the veteran car world.
Learning about Wolseley's history further fuelled Le Bon's interest and intrigue. The company was originally in the business of producing sheep shearing machines, but grabbed the opportunity to move into burgeoning car production right at the start of the 20th century.
It set up a plant in Birmingham and quickly established itself as one of the biggest and most important British manufacturers – a position it held until being acquired by Morris and eventually absorbed into what finally became British Leyland. The 1901 model Le Bon will be piloting on the road to Brighton is propelled by a 10 horsepower, twin-cylinder Austin engine giving it a top speed of around 20mph. When new it came with a £360 price tag.
Today, the Wolseley is exhibited at the newly refurbished British Motor Museum – the world's largest display of historic British cars. At the last count the Trust's collection totals more than 300 vehicles spanning classic and vintage as well as veteran eras a handful of which are regulars on the Veteran Car Run.
Le Bon is no stranger to world's premier motoring events. Over recent years she has been a judge at the Louis Vuitton Classic, Cartier Style et Luxe Concours d'Elégance at Goodwood and shared a Jaguar with David Gandy on the Mille Miglia, in which she was one of the few women to participate.
The Movember Foundation is the official charity partner of the 2018 Bonhams London to Brighton Veteran Car Run supported by Hiscox and, with Le Bon's enthusiastic support, will be raising awareness for men's health issues such as the causes of prostate cancer and testicular cancer as well as mental health and suicide prevention.
Further details of the Bonhams London to Brighton Veteran Car Run and ways to support the charity can be found via the event's official website: www.veterancarrun.com. For more information on the Movember Foundation visit www.movember.com.
As in recent years, the Bonhams Veteran Car Run supported by Hiscox provides a fitting finale to the Royal Automobile Club's busy London Motor Week – during which the Club presents an array of functions and events, another highlight being the free-to-view Illinois Route 66 Regent Street Motor Show, this year held on Saturday 3 November.