Cooper Tire 4×4 ambassador Xavi Foj is preparing to enter his 28th consecutive Dakar Rally.
Foj was honoured with Dakar Legend status earlier this year, becoming one of only six competitors ever to be awarded the title. The Spaniard joined Nani Roma, Stephane Peterhansel, Cyril Despres, Franco Picco and Yoshimasa Sugawara in receiving Dakar Legend distinction.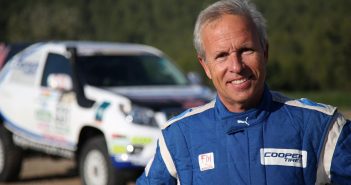 During his Dakar career, Foj has secured two class victories, nine podium finishes and has an impressive run of 13 consecutive finishes to his name. Completing all of the special stages on a single Dakar event is an accomplishment many drivers and riders aspire to.
The Dakar is famously known as the toughest endurance event in global motorsport. In its 40th anniversary year, the 10thedition of the Dakar to be held in South America will start in Peru, crossing through Bolivia and finishing in Argentina after 14 stages and a total of over 8,000km.
The 2018 edition of the Dakar will be the 10th in which Foj has competed on Cooper tyres. His Toyota Land Cruiser 150 will be shod with the all-new Cooper Discoverer S/TMAXX POR – a tyre Foj assisted in developing for extreme off-road adventures.
Foj revels in the challenge of the Dakar, and especially in the T2 category, which is a cross-country class for production vehicles.
Ahead of next month's Dakar Rally, Cooper Tire visited Foj at his home in Barcelona to find out more about his extraordinary life, what makes him tick and why he lives and breathes the Dakar:
An architect by trade, 58-year-old Foj also still works at his family business, a limestone quarry just outside his home town of Barcelona. He entered his very first Dakar in 1991 in a converted quarry truck, before switching to cars the next year.
Xavi Foj commented, "Dakar is my life, concentrated into two weeks. A lot of my daily time is thinking in motorsport, thinking in Dakar. My objective is to try and win again the Dakar in a production car.
"The next edition of the Dakar will be a very strong edition; it is the 40th anniversary – and I think the organisation has prepared a very strong and long race."
Details of the 2018 Dakar Rally can be found at: http://www.dakar.com/index_DAKus.html.
For more information on Cooper Tire Europe, visit www.coopertire.co.uk. Find us on Facebook.
A Selection From Amazon
Last updated on August 3, 2023 4:01 am