After a huge success at Race Retro for Silverstone Auctions, their next sale is right around the corner! The May Sale 2021, taking place on Saturday 22 May 2021.
This excellent ex Petter Solberg competition car has been fully restored by Prodrive Legends and returned to exactly the same specification it was on day one of the 2004 Rally Japan. Petter Solberg famously won the rally in the car and the recent restoration brief was simple; to present the car exactly as it was during its victory at the 2004 Rally Japan. The attention to detail was quite simply unparalleled.
'PRO-WRC 04008' was the eighth chassis to be built by Prodrive for the 2004 season and it was initially used by Petter Solberg to claim third place at Rally Turkey in June that year. On September 5 2004, Petter Solberg brought home this very S10 Subaru Impreza, World Rally Car '555 SRT', to famously win Rally Japan. It was his 8th and Subaru's 42nd WRC win. This special S10 led the rally from start to finish, claiming 11 stage wins and finishing more than a minute ahead of Sebastien Loeb.
WHEN YOU CLICK ON LINKS TO VARIOUS MERCHANTS ON THIS SITE AND MAKE A PURCHASE, THIS CAN RESULT IN THIS SITE EARNING A COMMISSION. AFFILIATE PROGRAMS AND AFFILIATIONS INCLUDE, BUT ARE NOT LIMITED TO, THE EBAY PARTNER NETWORK AND AMAZON
Acquired privately in 2019 it was sent to Prodrive to be restored by some of the technicians who had worked on the car in period. Pleasingly, the Legends department had retained all of the original documentation, including the specific build schedule for 008 at Rally Japan in 2004. This meant that they were able to precisely recreate the car as it was for that event for Petter, including all his particular suspension settings; preferred seat and pedal box position, and even the correct water bottle mount, replicating every aspect of the car during that event.
Gary Dunne Sales Controller for Silverstone Auctions added "We are absolutely delighted and privileged to be able to offer this one-off opportunity of the ex Petter Solberg competition car! This will certainly be one of the star cars for the sale; the lot list is rapidly growing, and this is our first sale for some time where we can invite bidders into the room on the auction day."
Silverstone Auctions are incredibly proud to offer such a special car to the market. This is the only Impreza that Prodrive Legends have restored so far and the attention to detail is quite simply unparalleled. It's been restored to exactly how it ran at its most famous achievement in Japan and has been looked after recently by the very same people who prepared the car at that time. Combined with the undoubted provenance of a famous Japanese manufacturer winning on home soil, means 'PRO-WRC 04008' now stands out as one of the best and most important examples available. Perhaps an unrepeatable opportunity.
Details to the fastidious restoration are summarised here and it's worth noting that there is a complete booklet in the car's history file, fully detailing this work along with pictures during the restoration.
Silverstone Auctions are offering in person viewings of cars from 12th – 21st May at Stoneleigh Park. Viewings require an appointment, and this should be made by calling 01926 691141.
Silverstone Auctions are inviting entries to join the growing lot list. The UK market leader classic car auction house can be contacted on can be contacted on 01926 691141, by email enquiries@silverstoneauctions.com or via their website if you wish to join this exceptional best of breed car.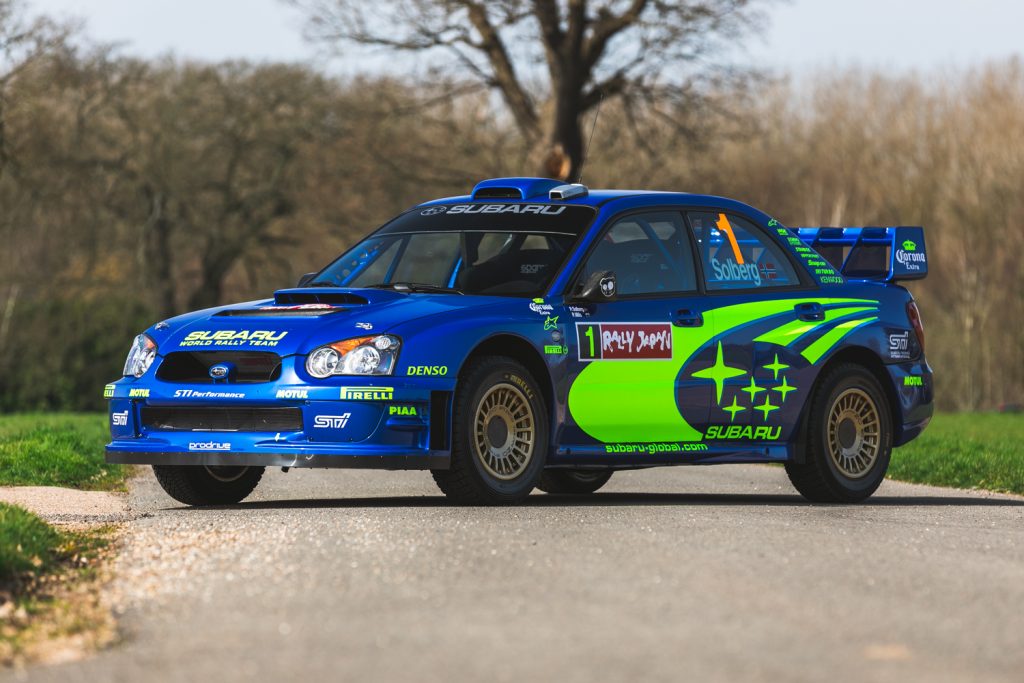 A Selection From Amazon
Last updated on August 23, 2023 6:14 am