Fixter offers 10 top tips for getting your car in order as lockdown eases
For the past year, many British cars have seen very little use as lockdown restrictions have drastically reduced commuting and leisure travel. Now, with restrictions beginning to ease from 29 March, it is predicted that many people will be using their cars as safe, private transport as life slowly returns to normal. Before setting off to see loved ones or engage in some much-needed retail therapy, leading UK online car maintenance provider Fixter has provided 10 top tips for checking your car is in good working order before you travel.
From Monday, people will be allowed to meet outside, consisting of either two households or within the rule of six, in public spaces and private gardens. Small wedding groups are also re-starting, as is outdoor sport. The phased return to normal is set to move on again from 12 April with the re-opening of many areas of the retail and hospitality sectors, as well as self-contained holidays for people living in the same household.
The gradual easing of restrictions is not just good news for Brits, as well as the economy, it is also welcome news for cars. Having sat idle, or done short journeys in many cases, for several months, as Spring arrives many vehicles will no doubt benefit from being used again on a more regular basis.
Commenting on their latest advice, Limvirak Chea, CEO at Fixter said, "Understandably, there is a lot of pent up demand to hit the roads to see friends and family and start enjoying many aspects of life again. We know that not everyone is fully clued up when it comes to car maintenance, so we're here to help car owners with keeping their cars in good condition at all times. We hope that by sharing our knowledge, we can ensure that British drivers and their occupants get to their destination safely, securely and with minimal fuss when the time is right."
WHEN YOU CLICK ON LINKS TO VARIOUS MERCHANTS ON THIS SITE AND MAKE A PURCHASE, THIS CAN RESULT IN THIS SITE EARNING A COMMISSION. AFFILIATE PROGRAMS AND AFFILIATIONS INCLUDE, BUT ARE NOT LIMITED TO, THE EBAY PARTNER NETWORK AND AMAZON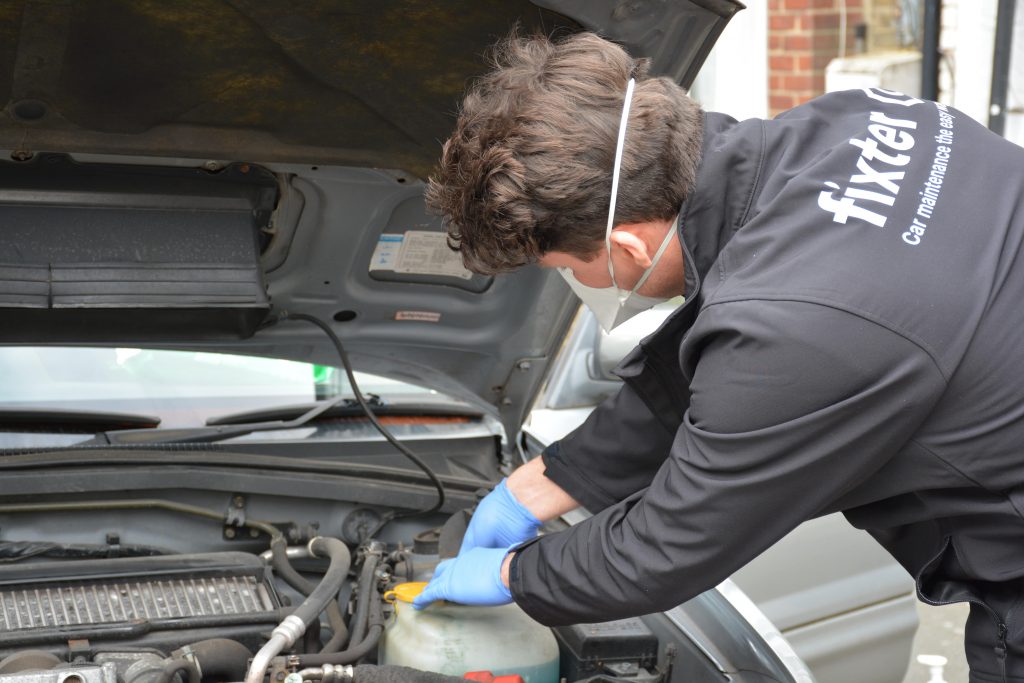 While a simple visual health check at a local garage will avoid expensive repairs and problems in the long run, in the meantime, Fixter has provided 10 top tips to act as a checklist before heading out on the roads:
1. Check your oil level
Your car's oil and coolant play a vital role in keeping your engine running smoothly. Checking and topping up your engine oil is quick and straightforward. Lift your bonnet and locate the dipstick. Pull the dipstick out and wipe off all the oil with a cloth. You should notice two marks or grooves on the dipstick, which indicate the minimum and maximum oil levels. When it's clean, reinsert the dipstick back into its tube, then remove it again. If the oil level is halfway between the minimum and maximum markers you don't need to add any oil. If it's below halfway, you should add some engine oil. If it's below the minimum level mark, you will definitely need to top-up your oil.
2.  Check our coolant level
With restrictions due to be lifted in time for summer, it's important that you check your engine coolant levels. Coolant prevents your engine from overheating in hot weather and freezing in colder weather. It's stored in a clear plastic container usually located near the radiator. There will be a mark or sticker on the container to indicate the correct fluid level. Top-up the fluid to ensure it remains at the correct level.
3.  Top up your windscreen washer fluid
This is a simple DIY check. The reserve is usually close to the top of the engine and is often marked with a windscreen wiper icon. If you can see that the fluid level is low, top it up, based on the manufacturer's recommended dilution where applicable.
4.  Check your battery health
If over lockdown you've only been doing very short trips in your car, or haven't driven at all for several weeks, your battery may have gone flat as it won't have been able to recharge over longer trips. As soon as it is safe to do so, we recommend going for a longer drive, at least 30 minutes, to make sure the battery has a chance to recharge. If you're having trouble starting your car for the first time in a while, you may need to jump start the vehicle to get it going so that you can drive and recharge the battery. If possible, trickle charge the car's battery overnight.
It's also a good idea to visually inspect the battery terminals, making sure they're secure and corrosion-free. If your car has been sat idle, particularly in damp conditions, the terminals may have rusted which could affect the power supply to and from your car's battery.
5. Check your tyres
Due to less use, your tyres could have deflated or even developed cracks. Before you set off, check your tyres (including the spare) for any splits, holes or tears. Look for any glass or nails that could cause a puncture or tear in the future.
Next, check the depth of tread on each tyre. In the UK and Europe, the legal minimum tread depth for cars is 1.6mm. The tread must meet this minimum across its entire circumference. The easiest way to verify whether your tyres have a deep enough tread is to use a 20p coin. Place the coin in the main tread grooves of your tyre. If you can see the outer band of the coin face at any point this is an indication that the tyre is likely to be below the legal limit so you should arrange a professional inspection by a mechanic.
6.  Check your tyre pressures
Ensure that your tyres are inflated to the recommended pressures by checking the guidelines in your car's handbook or on the panel inside the driver's door. You can check tyre pressure using a handheld tyre pressure gauge, or if you don't have one of those handy you can check and top up your pressure at most petrol stations.
7.  Check your brakes
It's important to always keep your brakes in tip-top condition, as they are arguably the most important safety feature in your car. When a car has been left standing for long periods, as it may have been during lockdown, issues can arise with your brakes.
Sticking brakes are a common problem if a car has not been used for a while. Most cars use disc brakes, which include brake pads, rotors, and calipers. Over time, particularly if your car has seen little usage recently, parts of your brakes can become rusty. As the surfaces will be covered in a light coating of corrosion, you'll notice a sticky sensation in your brakes and a grinding or squealing noise.
This soon clears away as you drive, but remember that your brakes won't be fully effective until the surface corrosion has worn away, so drive cautiously until your brakes return to normal. If the noises and sticking sensation continues your brake pads or discs may need replacing, so should be inspected by a mechanic.
8.  Check your fuel level
Cars parked for an extended period of time can suffer from moisture gathering in an empty fuel tank. This can cause rust to build up inside it. To get round this, simply fill up the tank completely, or even add a stabiliser fluid to keep it fresh.
9.  Check your car's exterior
While sitting on a driveway or on the road, it is likely that leaves or debris might have gotten stuck on the outside of your car. Before setting off, it is worth checking air intakes on the front bumper, as well as the lower part of the windscreen to remove anything getting in the way.
10.  Try the car's doors and handles
While many cars won't have been used much at all, others might have just had one user in the form of a keyworker. Either way, you should check all of your car's doors, including the boot, and lubricate locks and moving parts where necessary.
Lastly, in case your car lets you down on one of your initial journeys, it is a good idea to pack a fully charged mobile phone, phone charger, jacket, blanket, snacks, breakdown cover details, torch, and ideally a high-vis vest and warning triangle.
Fixter's tech-led approach makes car maintenance as easy as ordering a takeaway, allowing car owners to book MOTs, servicing and repairs within minutes, as well as get an instant quote, using a laptop or smartphone. They also offer a contact-free service, with convenient thirty-minute time slots for delivery and collection and live text updates.
Taking the hassle out of car ownership, the award-winning firm employs in-house technicians who liaise directly with its high-quality garage network for service and repair quotes and approvals, so that there are no nasty surprises. At the same time, in these uncertain economic times, Fixter offers the potential to save up to 30% compared to typical franchised dealer costs. Their approach is clearly working, given the company's very positive 4.6 out of five stars on Google Reviews and 4.4 out of five stars on Trustpilot. Customers can get an instant quote by visiting the Fixter webite at www.fixter.co.uk or calling 0330 808 9527.
A Selection From Amazon
Last updated on September 26, 2023 11:07 pm