Linda Jackson, global CEO of the Citroën Brand at Groupe PSA receives Sue Brownson Award for Outstanding Leadership in Automotive at Institute of Motor Industry annual dinner.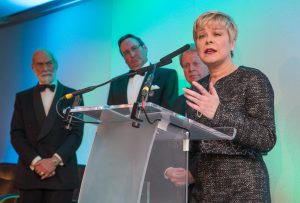 Last night motor industry body, Institute of the Motor Industry (IMI), recognised one of the motor retail sector's most influential leaders at its annual dinner. Linda Jackson, Chief Executive Officer of Citroën Brand at Groupe PSA received the Sue Brownson Award for Outstanding Leadership in Automotive, an award created four years ago in honour of the IMI's former President, the late Sue Brownson OBE.
Having begun her journey in the motor industry with a holiday job at Rover, Linda was sufficiently enthralled with the industry to turn down a University place in order to stay there, and was then sponsored by Rover through her MBA at Warwick Business School, which she pursued through evening classes whilst managing group finances. Having worked for Rover in the UK and France, Linda was headhunted by Citroën to become Finance Director of its UK subsidiary in 2005. In 2009 she moved to France as Finance Director, returning to the UK in 2010 as Managing Director. Her notable success in that role led to her being called back to the Paris Head Office of Citroën in 2014 as worldwide head of the iconic French brand.
The IMI award adds to the accolades already achieved by Linda Jackson, who was named as the most influential woman in the Great British Car Industry Awards run by Autocar and the Society of Motor Manufacturers and Traders and as the global industry's most influential Briton in 2017 by Auto Express.
"I believe that Sue Brownson, after whom this award is named, would herself have truly admired Linda Jackson as a role model in general, but especially for her ground breaking achievements in demonstrating that gender should not be a barrier to the very highest attainment in our industry", said Steve Nash, CEO of the IMI.
"And it is a delightful accident of coincidence that we have bestowed the award on the eve of International Women's Day. Linda is a fantastic role model for young people that the retail motor industry provides fantastic opportunities, regardless of gender or background."
Linda Jackson's award came at the end of an evening where a number of industry professionals were recognised. These included:
Contribution to the Motor Industry – Andy Tuberfield of Halfords Autocentres for being a tireless supporter and promoter of female apprentices and MOT testers
Contribution to the Work of the IMI – Katheryn Beaurain from Pro Align for support of the IMI SkillAuto competitions
Outstanding Individual Achievement – Paul Sewell of Chesterfield College for achieving dramatic improvements in results through a new approach to training
Key Contact – Paul Jarvis, for his dedication to building support for IMI members in the Birmingham area
Three Honorary Fellowship Awards were also given, to John Bloor of Triumph Motorcycles; Andy Goss, Jaguar Land Rover Group Sales Operations Director and Dr Ian Robertson, member of the main board of BMW AG.