Demand is soaring for used cars, with buyers often frustrated when the car they want is quickly snapped up by someone else.
But a leading online car supermarket, BuyaCar.co.uk, has now revealed the 10 models with the best availability, helping motorists to avoid disappointment.
The car shortage problem is especially challenging for the many motorists coming to the end of a PCP finance agreement or a lease, who are under pressure to change their car before the end of their contract.
WHEN YOU CLICK ON LINKS TO VARIOUS MERCHANTS ON THIS SITE AND MAKE A PURCHASE, THIS CAN RESULT IN THIS SITE EARNING A COMMISSION. AFFILIATE PROGRAMS AND AFFILIATIONS INCLUDE, BUT ARE NOT LIMITED TO, THE EBAY PARTNER NETWORK AND AMAZON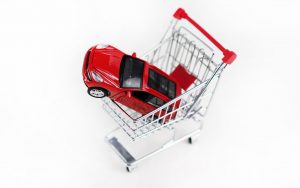 Topping BuyaCar's list of cars with the best availability is the Volkswagen Golf, with examples registered in 2020 making up one in three of all the Golfs currently available on the site.
Good news for the more budget-conscious is that the second most easy-to-find car is a Ford Fiesta from 2018. Although BuyaCar offers cars up to seven years old, three-year-old examples represent around a third of all Fiestas available.  The third easiest car to secure right now is the Volkswagen Polo from 2018.  BuyaCar says that the key to buyer confidence in the current extraordinary used car market – which has seen supplies hit by a combination of global factors – is understanding which cars are most likely to be available.
"Car Shopping" by free pictures of money is licensed under CC BY 2.0  
The Covid-19 pandemic coupled with a worldwide shortage of electronic chips has dramatically reduced the usual supply of both new and used vehicles, making many models harder and more expensive to buy.
The company also identifies the current national shortage of used cars as another factor driving buyers to opt for the online purchase approach – which enables them to have a car delivered to their door, regardless of how far away it is located. As the risk of wasting time and fuel by travelling around looking at increasingly scarce cars rises, the prospect of choosing from large amounts of stock in one place and having it delivered to their home is even more appealing to busy car buyers.
The top 10 list revealed by BuyaCar also shows that favourites like the Ford Focus can still be found without hunting too hard, but most easily for cars first registered in 2019.
Larger cars with relatively good supply also feature in the list, including the very popular Nissan Qashqai and the Volkswagen Tiguan, both from 2018.
Meanwhile, although prices are all significantly higher than at the start of the year, BuyaCar analysts say that average prices paid on the online car supermarket have reduced slightly since their high point in May.
Christofer Lloyd, Editor of BuyaCar.co.uk, said: "This has been a frustrating year for everyone, with the supply problems infuriating dealers and customers alike.
"But we noticed that not all cars are equally rare in the market at the moment, so we wanted to help buyers to take advantage of the models they are most likely to find available."
Like traditional dealers, BuyaCar.co.uk has seen business booming this year as more buyers than ever chase fewer cars than normal as Britain opens up its economy after more than a year of coronavirus restrictions.
But it has often caused frustration for car buyers, with many stories of would-be owners arriving on forecourts ready to buy, only to find that someone else beat them to it by offering dealers an even higher price than advertised.
"In these extraordinary times, the key to confident car shopping is looking carefully at what's available and perhaps choosing what seems easiest to find and perhaps doesn't tick every single box on your wishlist, rather than coming into the market with a fixed idea of what you will buy," said Christofer Lloyd.
"Otherwise you might find that you're in competition with other buyers who can act more quickly than you – and you might end up with nothing.
"It's yet another factor that is accelerating the trend toward car buying online, such as when physical dealerships were forced to close for long periods during pandemic restrictions. We are now seeing more consumers looking to choose from larger amounts of stock in one place and save themselves the potential waste of time involved with going out to look for cars in multiple locations, while also benefiting from home delivery.
"We hope that by revealing the cars and model years that are still relatively easy to get hold of, we can help car shoppers to save time and get the car they need, just when they need it."
Beat the used car shortage
The 10 easiest cars to find on BuyaCar.co.uk*
Make/model
Best registration year for availability
VW Golf
2020
Ford Fiesta
2018
VW Polo
2018
Vauxhall Corsa
2020
Mercedes A-Class
2021
Audi A3
2018
Nissan Qashqai
2018
Ford Focus
2019
VW Tiguan
2018
Kia Sportage
2018
*Stock availability on BuyaCar.co.uk as of August 9th 2021
A Selection From Amazon
Last updated on August 30, 2023 8:10 pm