With over 110 years of supporting the emergency services, ŠKODA continues its legacy with the launch of the marque's latest addition to its emergency services vehicle line-up – a fully converted ŠKODA Kodiaq Rapid Response Vehicle.
ŠKODA has unveiled its most versatile emergency services vehicle ever. The rugged Kodiaq SUV lends itself perfectly to emergency service conversion thanks to its practicality, multi-terrain abilities and class-leading space for passengers and essential specialist equipment. When fully converted the vehicle features 360-degree visibility thanks to powerful LED signal lights built into the front screen, grill, tailgate and number plate – all complemented by a 100-amp three tone siren.
WHEN YOU CLICK ON LINKS TO VARIOUS MERCHANTS ON THIS SITE AND MAKE A PURCHASE, THIS CAN RESULT IN THIS SITE EARNING A COMMISSION. AFFILIATE PROGRAMS AND AFFILIATIONS INCLUDE, BUT ARE NOT LIMITED TO, THE EBAY PARTNER NETWORK AND AMAZON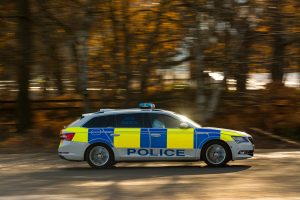 Kodiaq features a host of smart-assistance and safety features to optimise the safety of the driver and passengers. Safety systems help the driver stay safe when changing lanes, keep their distance from the vehicle in front and provide pedestrian detection and protection. The Kodiaq offers up to 2,065 litres of space in the rear, travel for up to seven occupants, full Smartphone connectivity plus useful options such as door edge protectors, remote boot opening and wireless phone charging. The emergency services can also benefit from a modified chassis equipped to deal with the demands placed on it during its working life on the road. State-of-the-art medical technology and the inclusion of luggage compartment with a roll-out tray and a back-up electricity source can mean the difference between life and death for those the Kodiaq is responding to.
Making its debut alongside the Kodiaq SUV is the ŠKODA Superb 280, which has entered into the ŠKODA fleet line-up as a covert Police Car. The 2.0 TSI 280PS is the most powerful production ŠKODA ever built and makes the ideal companion to a covert Police Officer undertaking a pursuit. The turbocharged, four-cylinder petrol engine accelerates from 0-62mph in just 5.8 seconds and for extra performance and composure it offers DSG transmission and four-wheel drive as standard. The 660-litre boot is the biggest in its class and its spacious cabin carries driver, passengers and any specialist equipment comfortably.
Henry Williams, ŠKODA Head of Fleet, commented: "It's our extensive experience in this sector that gives us a unique understanding of the extreme conditions both the vehicle and driver are placed under, and as such the bespoke nature of requirements needed for the vehicles. Time-and-time-again our vehicles show the required versatility, flexibility and reliability to meet the needs of any service operator. Kodiaq is a high-performing four-wheel drive SUV capable of tackling anything asked of it, so we're delighted to now make this available to all the emergency services."
ŠKODA has introduced a 'one-stop shop' package for emergency services fleets, which allows vehicles to be purchased directly or financed through Volkswagen Financial Services. Fleet managers now have the option of contract hire for added flexibility and value-for money or they can opt for a cost-effective leasing package.
Alongside hassle-free finance solutions, ŠKODA fleet can provide the vehicles fully converted to suit specific requirements, and fleet managers have the peace of mind that the conversion, breakdown recovery, service, maintenance and repair requirements are built into one package.
ŠKODA's emergency vehicle line-up also includes a Superb Estate Police Dog Vehicle that features two fibreglass temperature controlled dog kennels in the rear that fully meet RSPCA and DEFRA requirements. The Octavia Estate Scout ambulance conversion is a strong contender for use as a rapid response unit thanks to its agility, practicality and impressive load space to carry equipment. The ŠKODA Octavia, Yeti, Rapid Spaceback and Fabia models further provide reliable and affordable solutions for emergency services.
For further information on ŠKODA's emergency service vehicles, please visit www.skoda.co.uk/fleet/emergency-services