Year Long Partnership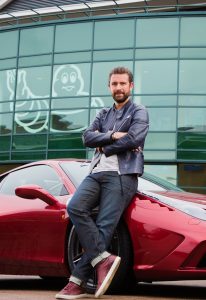 Michelin has signed a year-long partnership with social media personality Mr JWW.
Mr JWW – North Staffordshire-based James Walker – is the driving force behind one of the world's most popular automotive lifestyle channels on YouTube.
The deal will see Mr Walker acting as ambassador for the company which employed his father, Johnnie Walker, for 13 years.
In the 1970s and early 1980s, Mr Walker senior worked as a test driver for Michelin in Stoke-on-Trent for 11 years before continuing his work in Arizona for a further two years.
Now Mr JWW will work with Michelin to produce films and images spotlighting the manufacturers' high-performance products and featuring some of the most desirable cars and destinations in the world.
The 31-year-old said: "Growing up in our household it was Michelin or die. I truly believe that Michelin are the best in the game, but that connection with my dad makes this a really special project for me.
"We're already coming up with ideas for content we can produce and I'm so excited about it. Together I know we're going to create some amazing films that my audience will love and that will showcase just how good Michelin tyres are."
The Mr JWW YouTube channel was launched in 2015 and it focuses on luxury cars, travel and fashion. It has more than 325,000 subscribers, and Mr JWW's films regularly achieve more than a million views.
Michelin says…
Mark Higginson, head of digital for Michelin in the UK and Ireland, said: "We're really pleased with this partnership. We've worked with Mr JWW a few times over the last couple of years, and he understands what Michelin is trying to achieve as a brand.
"The days when we just wanted to talk about tyres are long gone. Yes, Michelin makes premium tyres for the best cars in the world, but we are also an authority on the best restaurants and hotels in the world. Michelin is now becoming a lifestyle brand, and we want to help people get the most out of every journey they make.
"Mr JWW reflects that evolution perfectly. His channels are extremely high quality and engaging, and we're very much looking forward to creating some fantastic content with him in 2018."
The agreement reflects the growing trend for brands to enter into longer term partnerships with influencers.
Dan Green, Managing Director of Represent Talent – the agency representing MrJWW – added: "Michelin are incredibly forward thinking in their work with influencers. Over the past year they have taken the time to really understand MrJWW's channel and audience.
"They know that successful influencer marketing is achieved by partnering with talent that has a genuine passion for their product. By entering into a long-term partnership with James they will ensure that the activations feel natural and engaging, offering new, exciting content opportunities that can be shared with his followers."