Heveningham Hall Concours d'Elegance
Heveningham Hall Concours d'Elegance has confirmed the details of all entrants participating in this year's event on 30th June & 1st July at the 5,000 acre Georgian estate in the heart of Suffolk.
WHEN YOU CLICK ON LINKS TO VARIOUS MERCHANTS ON THIS SITE AND MAKE A PURCHASE, THIS CAN RESULT IN THIS SITE EARNING A COMMISSION. AFFILIATE PROGRAMS AND AFFILIATIONS INCLUDE, BUT ARE NOT LIMITED TO, THE EBAY PARTNER NETWORK AND AMAZON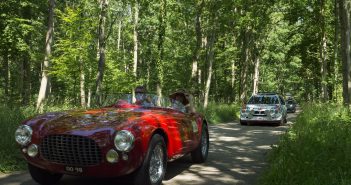 A total of 54 cars will grace the dramatic Kim Wilkie-designed grass terraces to the rear of the Grade I listed Palladian mansion, including cars from the very dawn of motoring up to the modern day. The oldest car confirmed is a wonderful 1886 Benz Patent Motorwagen and the youngest a stunning 2016 Aston Martin 6C Vulcan.
To mark the 70th anniversary of Porsche, the organisers have confirmed a number of spectacular entrants from the marque: a 1960 356B Super 90 GT; a 1968 Porsche 910; a 1969 Porsche 911 ST; a 1974 Porsche 911 RS; a 1987 Porsche 962, a 1997 Porsche 911 GT1 Evolution and a 2010 Porsche 918 Spyder.
The organisers have also confirmed that there will a separate McLaren F1 Exhibition on the lawn in front of the concours' entrants. A total of seven iconic McLaren F1 Grand Prix cars courtesy of the British Formula One Team and David Clark will be on display including historic cars driven by legends of the sport including Mika Hakkinen; David Coulthard; Jenson Button; Lewis Hamilton and the late Ayrton Senna.
The details of the entrants in the aviation concours located at the airfield in the Capability Brown landscape have also been announced and they include a wonderful 1944 Spitfire Mk XI, a 1942 Texan AT6-D and a 1952 Morane-Saulnier 315 to name but a few.
Commenting on the entrants and this year's concours, Max Hunt, chairman of judges, said: "Our third concours has attracted entrants from far and wide, including the United States and the list of exhibitors is extremely varied. During this, the 70th anniversary year of Porsche we are also really pleased to have so many of Stuttgart's finest on display – we can't wait to see everyone at the event."
For more information about the concours, visit: www.heveninghamconcours.com For further information about the country fair which takes place at the same time as the concours, including ticketing, visit: www.countryfair.co.uk