News Release From Concours Virtual
We are delighted to announce that Chris Hoy will be a guest judge in the Le Mans 1961-1970 Class at the Concours Virtual in aid of Unicef.
In addition to his exploits in the velodrome, Sir Chris Hoy is no stranger to the racetrack, having completed the gruelling 24 hrs of Le Mans on his debut in 2016. Sir Chris is also an Ambassador for Unicef, the charity that will be benefiting from the virtual event.
Sir Chris Hoy will be joining, among others, five-times Le Mans winner Derek Bell, racer and Fifth Gear presenter Vicki Butler-Henderson, Le Mans Classic organiser Patrick Peter and racing driver Marino Franchitti in identifying the Best in Class from a stellar line-up of cars from this golden age of Le Mans.
Commenting on his appearance as a judge, Sir Chris Hoy said,  "I'm really excited to be judging the Le Mans class in this year's Concours Virtual event, alongside the legendary Derek Bell, who has won Le Mans an astonishing five times! With so much sport off the calendar this year, it's great to have the opportunity to view these classic cars from the comfort of our homes.
1961-1970 was a halcyon period for the 24 Hour race that saw the Ford vs Ferrari wars and the increasing dominance of Porsche, leading to their first victory, 50 years ago, in the mighty 917.
The class includes five outright winners as well as a number of class winners and podium finishers. Stand out cars in the class include the following:
1966 Ford GT40. The winning 1966 car – Bruce McLaren / Chris Amon
1970 Porsche 917K The winning 1970 car – Attwood / Herrmann
1963 Ferrari 250P The winning car 1963 – Ludovico Scarfiotti / Lorenzo Bandini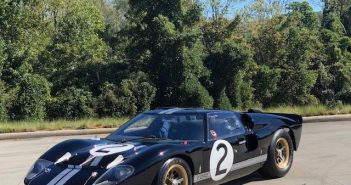 The Concours Virtual is aiming to generate £75,000 for Unicef in their campaign to support children during the current coronavirus pandemic. Speaking of his involvement in the charity, Chris Hoy remarked  "As a Unicef UK Ambassador, I've seen first-hand the incredible, life-changing work taking place on the ground in Malawi and Madagascar, and it's safe to say that our support is more critical now than it's ever been. The coronavirus pandemic has upended the lives of children in the UK and abroad, and threatens children already weakened by war, disease, hunger and poverty, whose very survival depends on health care, life-saving food, clean water and medical supplies.
A Selection From Amazon
Last updated on September 18, 2023 12:15 pm