The Perfect Gift For A Mechanic?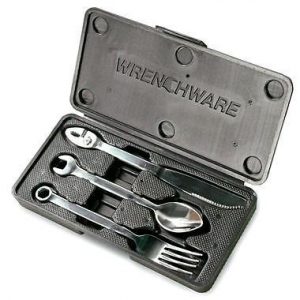 We first spotted these Wrenchware knife, fork and spoon sets over Christmas and they were selling like hot cakes!
From what we've read, these featured on Top Gear at some point, with James May mentioning that you could go seamlessly from repairing your motorbike to eating a pie. Obviously, we wouldn't recommend using them like that, but they are said to be dishwasher safe.
The spoon and fork represent spanners, while the knife has a plier end (although this doesn't open, so you won't be using that particular one to fix your motorbike, James!).
Two Sizes Available
There appears to be two sizes of cutlery available – Adult and Mini. Prices vary, but the going rate for the adult seems to be around £30 and the Mini around £20.
A great gift for any car or motorbike fan; not only are these made from stainless steel, but they also come in a nice presentation box.
Below is a link to find these Wrenchware cutlery sets on eBay. Choose the size you like, the price that's keenest and check feedback before ordering!
Wrenchware on eBay → CLICK HERE