Next summer's Silverstone Classic is now confirmed for the weekend of 20-22 July.
The date had already been announced but remained 'provisional' until Formula One's governing body, the FIA, formally ratified its 2018 calendar following a meeting of its World Motor Sport Council in Paris yesterday (Thursday).
With the British Grand Prix at Silverstone now rubber stamped for Sunday 8 July, the Silverstone Classic can officially take its place in the calendar a fortnight after Formula One headlines at the home of British motor racing.
What's more, though tickets have been on sale since October, cautious show-goers who were waiting for a verified date can still take advantage of the Super Early Bird offer available until the end of the year.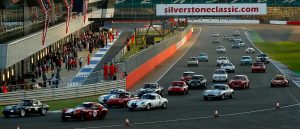 Prices for these Super Early Bird tickets are frozen at 2017 levels and start from just £35 – a 20 per cent discount on Standard admission – with a three-day weekend pass currently available for £99. Details of all ticket prices, as well as hospitality and camping options are available at silverstoneclassic.com.
With the date for the dazzling three-day festival set in stone, full details of the on- and off-track family entertainment will be announced in the coming months including the full roster of races, record-breaking car club anniversaries and the high-profile live music acts performing on both Friday and Saturday evenings.
While the Silverstone Classic is renowned for serving up an incredible array of fun-fuelled activities and amusements for those all ages, it is the unrivalled line-up of evocative grids that remains the event's heartbeat.
As befits the world's biggest classic motor racing festival, the event sets the gold standard when it comes to showcasing the cream of global historic action with more than 1,000 race entries dating back to the glorious heydays of Formula One, GT, Touring and Sports cars.
Many of the regular crowd-pleasers have already been announced along with the exciting addition of the new Masters Endurance Legends for high-tech sports prototype and GT cars from 1995-2011 – thus adding a new, more modern dimension to the high-revving nostalgia.
Other affirmed grids with Le Mans pedigree are the Royal Automobile Club Woodcote Trophy for Pre '56 Sportscars, the Stirling Moss Trophy for Pre '61 Sportscars, the Royal Automobile Club Tourist Trophy for Pre '63 GT Cars, the International Trophy for Classic GT Cars (Pre '66) and FIA Masters Historic Sportscars.
Fittingly at Silverstone, more than half a century of Formula One history stars in the HGPCA Pre '66 Grand Prix Cars and FIA Masters Historic Formula One grids. Single-seater thrills are also provided by Historic Formula Junior which is celebrating its 60th anniversary at the Classic.
The full line-up of touring car grids is yet to be announced but it has been revealed that there will be a dramatic return of the Trans-Atlantic Touring Car Trophy starring mighty V8-propelled machines from the US. In the meantime, highlights of this year's Silverstone Classic can be viewed on ITV4 television at 09:15 on Sunday 24 December.
All the latest news on the Silverstone Classic is available on the event website and social media platforms.
No items matching the keyword phrase "race car" were found. This could be due to the keyword phrase used, or could mean your server is unable to communicate with Ebays RSS2 Server.
No items matching the keyword phrase "race car" were found. This could be due to the keyword phrase used, or could mean your server is unable to communicate with Ebays RSS2 Server.