BICESTER HERITAGE TO WELCOME THOUSANDS AT SUNDAY SCRAMBLE ON 22 APRIL, 2108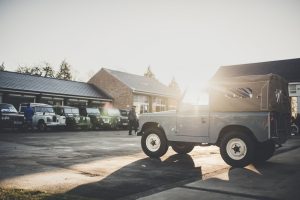 The hub for historic motoring excellence, Bicester Heritage, is opening its gates to the public for one of the most eagerly anticipated Sunday Scrambles ever on Sunday 22 April. An incredible 5,000 visitors are expected at the former RAF Bicester to take part in 'Drive It Day' – a national scheme set up by the FBHVC designed to encourage the use and enjoyment of historic vehicles.
Drive It Day invites owners to get out and drive, with the aim of raising awareness nationwide for the great British love of historic motoring, its industry and skilled employment that it drives.
Veteran and vintage cars through to battle-hardened racing cars and the latest supercars will visit Bicester Heritage this Sunday, as well as a number of historic aircraft – including the 'Finest Hour Experineces' Tiger Moth which offers visitors the opportunity to see the show from above.
The specialist businesses of Bicester Heritage will once again open their doors to the public, offering the chance to see their latest projects and ever changing stock. This April sees the Motor Transport Yard full for the first time, with the launch of Sports Purpose and Robert Glover Ltd's new showrooms. The Wriggly Monkey Brewery will have its first 'permanent ale' ready to sample, and will run a competition to win a cask of 'Full Tilt'.
Highly revered photographer Amy Shore will host her debut exhibition in the recently restored former Station Armoury at the heart of the site. Amy has been the 'house photographer' for Bicester Heritage for four years, capturing its development and some stunning cars along the way. Pieces range from £175 to £850, with the first five purchased on the day being personally delivered by Amy herself (within the UK).
Tickets
Advance discount tickets for the Sunday Scramble are still available from bicesterheritage.co.uk/events