LIFELINE – AUTOSPORT INTERNATIONAL ON STAND E185
Driver safety moved forward with new range of homologated fire safety systems
During 2017, Lifeline Fire & Safety Systems completely redesigned and re-homologated their entire range of nine fire suppression systems to conform to the FIA's most stringent specifications in both Technical Lists 16 and 52, with the result that competitors in all categories of motor racing are now catered for. This not inconsiderable task puts driver safety from fire into a new league and visitors to Autosport International Engineering can view the results on Lifeline's stand E185 on Thursday 11th and Friday 12th January.
WHEN YOU CLICK ON LINKS TO VARIOUS MERCHANTS ON THIS SITE AND MAKE A PURCHASE, THIS CAN RESULT IN THIS SITE EARNING A COMMISSION. AFFILIATE PROGRAMS AND AFFILIATIONS INCLUDE, BUT ARE NOT LIMITED TO, THE EBAY PARTNER NETWORK AND AMAZON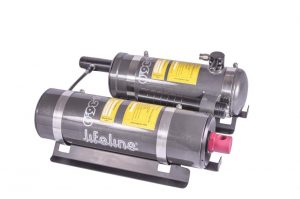 Innovations in nozzle design and deployment rate of the suppressant that the company had employed with their flagship Zero 3620 range were found to be suited to other systems in the range and the decision was taken to extend the technology across the board.
In addition to making the resulting three ranges of systems – Zero 2000, Zero 360 and Zero 3620 – possibly now the most advanced and safest available, the consolidated range means they also cover an even greater number of applications.
Firemarshal options
To further extend vehicle coverage, Lifeline are also constructing the mechanical versions of any system (where available) with steel cylinders under the new Firemarshal brand, offering a lower price point.
Cylinder Construction
The company has also re-engineered the construction methods and material specification of its cylinders, which now conform to the stringent US CFR49 regulation as well as the FIA Technical List 16 and EN3 regulation, having now been tested and certified to withstand six times the operating pressure, without increasing the weight or thickness of the cylinder.
Underpinning these developments at Lifeline is the company's drive to increase its support for safety in the sport, borne out by the facts that more than 80% of UK motorsport competitors are now protected by Lifeline fire safety systems and that, in 2017, over 75% of entrants at the Le Mans 24 Hours had specified Lifeline products.
To read more about Lifeline's extensive range of driver safety products, click here.