Radical Sportscars has announced today that is has built its 50th SR10 as it becomes the fastest-selling model in Radical's history.  In comparison, the iconic SR8 model took four years to reach the same milestone.
With final developments taking place during the 2020 lockdown and officially launching in September 2020, with the first production model completing build in December 2020, SR10 has proven popular with Radical Sportscars' global customer base due to its brand-new formula, based on a proven background of developing and manufacturing high-downforce racing cars since 1997.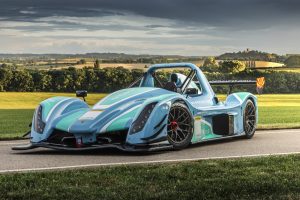 Constructed and engineered at its UK HQ, the SR10 is powered by Radical Performance Engines' (RPE) developed Ford EcoBoost 2.3-litre turbocharged engine. Arriving as a crate, the in-house RPE team strips it to its core components, machines and strengthens the block ready for its forged internals, dry sump, larger, custom-built Garrett turbo and its own exhaust manifold. Each RPE-Ford engine is then dyno tested to verify the engine build and its bespoke mapping, before being installed in to the SR10 chassis.
The result is over 425 bhp and 380Ib-ft of torque on tap, with the custom Garrett G-Series turbocharger delivering drivers a better throttle response and reduced lag. The RPE-Ford engine unit was developed to be a high output, long-life powertrain to help keep running costs for customers low, with lower maintenance intervals than its competitors. To increase durability and performance, Radical Sportscars turned to transmission and transaxle specialists Hewland for its GT3-derived six-speed gearbox and Hewland TMT-200 transaxle, the latter originally developed for the FIA F2 single-seater.
Designed to keep drivers on track for longer and at faster speeds, the SR10 has a top speed of 180 mph and accelerates from 0-60 mph in 2.4 seconds, allowing racers to out-run and out-manoeuvre the competition. With its digital dash and full data logging capabilities, including video and telemetry, the SR10 is able to assist both drivers and driver coaches in giving the best data to help get them the win. A clear example of this can be found in the Radical Cup in North America, where the SR10 has dominated the series, winning every round so far, which comes as no surprise with its overall power to weight ratio of 586 bhp per tonne and peak lateral force of 2.3 g. With over 31 dealers worldwide, and eligible for use globally, it's been the American market and in particular Radical Sportscars' Californian dealer, Radical Northwest who is among the top-performing dealers globally.
Dan Redpath, Global Sales Director said: "Since the launch of the SR10, we have been delighted with the number of orders from both existing and new-to-brand customers. It is fantastic news for the entire team at Radical – who worked non-stop to develop our best race car – to see the results of their hard work. To have 50 SR10s built so far with plenty more orders in the book, is incredibly encouraging for the company. On top of that, to see the car consistently win in our Radical Cup in North America highlights all the engineering developments our in-house team has done over the past 18 months."
Steve Cameron, Radical Northwest dealer co-owner and two-times Daytona 24hr class winner commented: "It has been an incredible first year for the SR10, the performance of the car is unparalleled and it's not just something I've noticed as a racer, but so have our customers as well. It is the most competitive Radical out there at the moment and has shown that time after time, particularly in the Radical Cup we have over on this side of the Atlantic. Both the teams and Radical drivers over here are just so thankful that we are back racing once again safely, thanks to the new COVID measures. The season is not over just yet, but we have already seen an increase in interest from those who have seen it on track. 2022 looks very strong."
The British manufacturer, who will be celebrating its 25-year anniversary in 2022, has seen an overwhelming number of orders across a range of its models this year, and is on track to deliver a record number of cars in 2021. It continues to develop, design, engineer, manufacture and organise race series for all its models from its headquarters in Peterborough, UK, from where the vehicles are exported all over the world.
To follow along with its worldwide racing calendar, please visit:
www.radicalsportscars.com/events. The next race in the season will take place at Inje Speedium International Circuit in South Korea for Round Three of the Radical Cup Korea on 3 – 5 September 2021. For sales information on all its models for next year, all enquiries can be sent to sales@radicalsportscars.com.