BMW UK is celebrating a significant milestone as the 10,000th BMW i3 is sold today.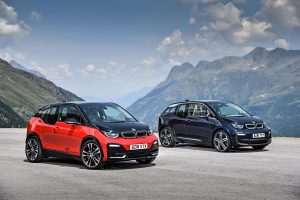 Launched in 2013, the BMW i3 has evolved to be the best-selling compact electric vehicle in the premium segment. With updates to the BMW i3 and the addition of a new, sportier variant in the BMW i3s, success is set to continue.
Thanks to the latest BMW eDrive technology, both the BMW i3 and new BMW i3s offer emission-free driving with instantaneous power delivery, efficient use of energy and an increased range.
This strong market position is not isolated to just the UK. In 2017, BMW Group sold more than 100,000 electrified vehicles and both BMW i and BMW iPerformance became the best-selling Plug-in Hybrid (PHEV) brands worldwide.
BMW i vehicles are now sold in 74 countries and charging has never been easier with 130,000 ChargeNow locations worldwide with more than 5,000 in the UK alone.
In addition to successful vehicle registrations, the BMW i3 has been awarded many accolades since entering the market, further cementing the groundbreaking zero emission car's status. This includes winning titles such as Car of the Year in 2014, Best Electric Car of the Year in 2017 an Best Zero Emission Car by Fleet News this year, to name a few of many.
Graeme Grieve, Chief Executive Officer, BMW UK commented: "This is an important moment for electric cars in the UK. With the electric vehicle market growing at astonishing pace, I am proud that the BMW i3 has played such a major role in promoting EV ownership."
| | | | | |
| --- | --- | --- | --- | --- |
| Model | 2014 | 2015 | 2016 | 2017 |
| BMW i3 Retail Sales | 1,220 | 2,145 | 2,631 | 3,458 |