ITV, the UK's oldest and most successful commercial television network, is now calling on the best-selling Mitsubishi Outlander PHEV to keep its millions of viewers up-to-date with the latest news and current affairs.
The broadcaster's ITV Studios Daytime division is using a specially-converted fleet of four as Outside Broadcast (OB) vehicles for its Good Morning Britain and This Morning programmes.
The quartet of Mitsubishi Outlander PHEVs are ITV's first hybrid vehicles and all have been tailored to its bespoke specification by Mitsubishi Special Vehicle Operations (MSVO) – Mitsubishi Motors in the UK's specialist, in-house conversion facility.
WHEN YOU CLICK ON LINKS TO VARIOUS MERCHANTS ON THIS SITE AND MAKE A PURCHASE, THIS CAN RESULT IN THIS SITE EARNING A COMMISSION. AFFILIATE PROGRAMS AND AFFILIATIONS INCLUDE, BUT ARE NOT LIMITED TO, THE EBAY PARTNER NETWORK AND AMAZON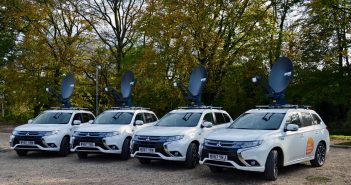 ITV also believes its new Mitsubishis to be the first vehicles of their size and type to be equipped with an auto-pointing satellite dish, which works to detect and pull an internet signal into the on-board transmission equipment in areas where there is weak or non-existent coverage.
As ITV's pioneering 'Sat Car' concept, which has been made possible due to the versatility of the Mitsubishi Outlander PHEV and new technology making the on-board transmission equipment smaller, the petrol/electric hybrid SUVs replace the traditional diesel 'Sat Truck' and, more recently, 'Sat Van' that the broadcaster has previously used.
Significantly reducing the carbon footprint of ITV Studios Daytime's OB vehicles, the Mitsubishis contribute to the broadcaster's drive to be more environmentally-friendly across all aspects of its business, spanning reusable drink containers right through to the use of low emission vehicles.
As well as the efficiency and environmental benefits of the Mitsubishi Outlander PHEV, ITV opted for the award-winning SUV due to its go-anywhere capability, agility, size, dependability and, importantly, ease-of-use.
The expertise of MSVO also played a major role in ITV's decision. Working with ITV's system integrator BWS (Broadcast Wireless Systems), each Mitsubishi is equipped with a roof-mounted, auto-pointing Cobham satellite dish, power invertor, split charging system and a selection of audio-visual and communications kit. Completing each vehicle is magnetic programme branding.
From the initial placing of the order to ITV taking delivery of the completed vehicles took only four weeks.
Tim Guilder, Technology Manager, ITV Studios Daytime, said: "With ITV Studios Daytime requiring its own mini fleet of OB vehicles and with us keen to develop the more efficient 'Sat Car' concept, the Mitsubishi Outlander PHEV was the perfect choice.
"At initial discussions we did consider rival hybrid vehicles, but the Outlander PHEV really stood out and we knew it would be able to handle all our kit and the challenging driving conditions that our crews sometimes face. Also, only Mitsubishi really understood what we wanted to achieve and had the in-house resources to perform our essential modifications."
He continued: "Feedback from the camera crews has been excellent. They're finding the Mitsubishis to be very comfortable and many have commented on the sheer amount of equipment that can be carried and how, unlike with some of our previous vehicles, the roof-mounted satellite dish doesn't affect the handling."
Lance Bradley, Managing Director, Mitsubishi Motors in the UK, said: "We are exceptionally pleased that ITV has shown its confidence in the dependability and capability of the Mitsubishi Outlander petrol/electric PHEV with its use in such an important role. Together with the emergency services, Highways Agency and various leading utilities providers, ITV is another well-known organisation to recognise and benefit from the expertise of our unique in-house conversion division."
Since its introduction in 2014, the Mitsubishi Outlander has established itself as the UK's best-selling plug-in hybrid electric vehicle – with over 30,000 examples now on the UK's roads. It has won multiple awards and, together with its diesel counterpart, was recently voted the most reliable Large SUV in the What Car? 2017 Reliability Survey.
The PHEV offers a choice of six versions – 3h, Juro, 4h, 4hs, 5h and 5hs – and costs from £32,305 OTR. There is also a dedicated commercial version.