McLaren 720S adds Red Dot: Best of the Best to its extensive list of accolades
The McLaren 720S has added to its trophy haul by winning the top Best of the Best category of the 2018 Red Dot Design Awards. It is the second time that a new McLaren has been awarded the international seal of outstanding design quality, following the recognition of the McLaren 570S Coupé in 2016.
The second-generation Super Series provides a new interpretation of McLaren design language, with a dedication to aerodynamics principles and was singled out by the 40 international judges for its "innovative symbiosis of aesthetics and function". Criteria for the competition, which is one of the world's largest design contests, include innovation, functionality, formal quality, ergonomics and durability. Of the 6,300 products from 59 countries vying for the ultimate Red Dot title in 2018, just one per cent were chosen as worthy of the Best of the Best title.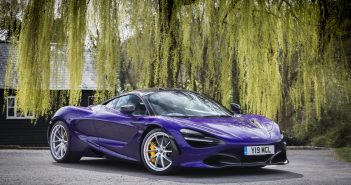 Additionally, the McLaren 720S was named Car of the Year at the Vehicle Dynamics International Awards 2018, having impressed the jury with its depth of engineering innovation, ground-breaking dynamics, and outright performance. These leading design and engineering awards highlight the integrity of the second-generation Super Series and reflect the quality of McLaren "form follows function" design ethos.
Since its unveiling at the 2017 International Geneva Motor Show, the McLaren has 720S received a worldwide critical-acclaim including numerous awards and five-star reviews from key opinion leaders, as well as globally-read lifestyle and motoring media. In the UK alone, it was named EVO Car of the Year 2017, BBC TopGear Magazine Supercar of the Year 2017, BBC TopGear Magazine Performance Car of the Year 2017 and CAR Magazine Performance Car of the Year 2017.
It has also achieved great reception on the McLaren's largest global market, North America, where it received the coveted Road & Track 2018 Performance Car of the Year award, was voted as an Automobile All Star, received a Car and Driver Magazine Editor's choice, was Du Pont Registry's 2018 Car of the Year and also the fastest ever car tested by Motor Trend at their Willow Springs Raceway test facility.
"To have the McLaren 720S design recognised as the Best of the Best by the Red Dot Awards jury is a great honour for us,"said Rob Melville, Design Director at McLaren Automotive. "McLaren is always brave in its approach and the 720S is the perfect expression of that innovative culture. The number of various design, product and engineering awards received by the car is a real testament to the quality of the team back in Woking and highlights the irresistible, all-round appeal of this incredible vehicle."
For more information on the award-winning McLaren 720S and for McLaren Automotive' s list of retailers, please visit: http://cars.mclaren.com/.