London, UK, 23 August 2021 – New dog owners have revealed that their new canine friend has been the best thing to come out of lockdown, despite some finding ownership harder than raising a child.
During lockdown, the perceived benefits of dog ownership didn't go unnoticed with demand soaring by 115%*.
WHEN YOU CLICK ON LINKS TO VARIOUS MERCHANTS ON THIS SITE AND MAKE A PURCHASE, THIS CAN RESULT IN THIS SITE EARNING A COMMISSION. AFFILIATE PROGRAMS AND AFFILIATIONS INCLUDE, BUT ARE NOT LIMITED TO, THE EBAY PARTNER NETWORK AND AMAZON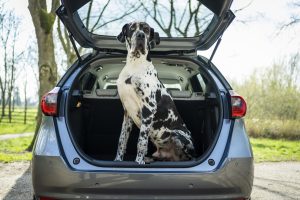 A survey of 2,000 drivers with dogs by online automotive marketplace CarGurus, revealed a fifth (22%) bought or adopted their most recent dog after the start of lockdown. Of those, 83% claimed that adding a dog to their lives was the highlight of the last 12 months.
Although it hasn't all been plain sailing, with a third (34%) of Brits admitting owning a dog was more difficult than they anticipated – and 27% of dog-owning parents claiming raising a dog was harder than bringing up a child.
While it's clear the majority of dog owners were glad they bought their pet, on average 29% believed they didn't do enough research before making the purchase; men (38%) had done less due diligence compared to women (22%). Regionally, Londoners felt the most underprepared (62%) but dog owners in Wales (58%), Scotland (67%) and South West England (63%) were happy with the research they'd done.
One of the key things dog owners wished they considered more before purchase was their car. More than a quarter (27%) of surveyed dog owners said they should have thought more about the car they owned when getting their pet – with this number increasing to 61% among the 'lockdown dog owners'.
The CarGurus survey, released ahead of International Dog Day, August 26th, also found that 35% of recent dog owners said they had to buy a larger or more practical vehicle because of the pet, spending an average of £7,594.
CarGurus' tool, the CarGurus Pupgrader, helps new, or future, dog owners find the right vehicle for them. It suggests a vehicle based the size of their dog and whether they need to transport other family members around.
Ivan Aistrop, Deputy Editor at CarGurus, said: "With more than half of dog owners using their car to transport their dog every week, it's clear having the right vehicle for your pet is vital. However, many dog owners don't seem to have considered if their car is right for their pet before purchase.
"The CarGurus Pupgrader tool helps current or future dog owners understand the size and style of the vehicle required. In turn this will help ensure consumers are making the right decision on what the best car is for them and their pet."
The survey, also found nearly two thirds (62%) of Brits bought a dog for an added companion during isolating lockdowns. Other common factors that led people to purchase their dog during lockdown was keeping active (35%), improving mental health (34%) and wanting a companion for themselves (32%) or their children (30%).
In addition, it delved into common mishaps or mistakes general dog owners made:
Letting them on the sofa (52%)
Letting them on the bed (43%)
Giving them too many treats (29%)
Not being strict enough (25%)
Going out without poo bags (19%)
Trying to walk them without a lead (19%)
Not restraining them while travelling in the car (194%)
Under exercising them (14%)
Letting them rule the house (13%)
Overfeeding their dog (13%)
Looking at how mistakes differed between men and women, the biggest disparities occurred when letting them on the bed (men 36% vs women 48%), letting them on the sofa (men 44% vs women 58%) and not being strict enough (23% men vs 26% women).
The over 65s were most likely (66%) to let their dog on the sofa with 35–44-year-olds least likely. The 18–24-year-olds were the age group most likely to give their dog too many treats (39%), not be strict enough (33%), go out without poo bags (29%) and overfeed them (24%).
Regionally, those from the East of England were most likely to go out without poo bags (29%). Londoners, were more prone to leaving their dog in a car on a hot day (15% – North East was 8%, the rest of the UK was between 1-4%). Dog owners from the West Midlands were the most guilty of giving their dog too many treats (34%).
Owners can find the right vehicle for them and their dog on the CarGurus website: https://www.cargurus.co.uk/Cars/best-cars-for-dogs.