MTV UK and eBay are bringing iconic noughties makeover series Pimp My Ride back to British screens this month. Hosted by British rapper, Lady Leshurr, the new six-part series premieres on MTV UK's YouTube channel on Friday 19th August.
With a car part sold every second from over 40,000 traders, garages and car businesses, eBay is the biggest online marketplace for car parts and accessories in the UK. For 2022, Pimp My Ride will highlight to would-be DIY motorists the cost and environmental benefits of buying pre-loved 'green' parts from eBay's Certified Recycled Hub, which hosts an extensive range of recycled Original Equipment automotive parts**.
WHEN YOU CLICK ON LINKS TO VARIOUS MERCHANTS ON THIS SITE AND MAKE A PURCHASE, THIS CAN RESULT IN THIS SITE EARNING A COMMISSION. AFFILIATE PROGRAMS AND AFFILIATIONS INCLUDE, BUT ARE NOT LIMITED TO, THE EBAY PARTNER NETWORK AND AMAZON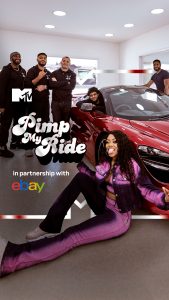 The transformations, undertaken by Surrey-based one-stop-auto-shop, Wrench Studios, will include everything from a restored 1966 Volkswagen Beetle to a Fast & Furious-inspired 1992 Mitsubishi GTO. Viewers will see classic restorations completed alongside extreme modifications, featuring trademark Pimp My Ride sound systems and screens.
eBay is not only a go-to for trade professionals and car enthusiasts as a reliable source of regular and rare parts, it is also the destination for an ever-increasing number of amateur DIYers choosing to pimp their own rides.
Whether motivated by costs, sustainability, or a general passion for motors, an eBay study of 1,919 parts and accessories buyers in the UK this year found 69 per cent were planning to fit them themselves – an increase of more than 32 per cent since 2015.*   The Pimp My Ride partnership provides a platform to connect these budding mechanics with the inspiration they need, demonstrating that anyone can source and install parts for their cars.
Wrench Studios is run by two brothers who were huge fans of the original series.
Hamid Iqbal, CEO Wrench Studios, said: 'We grew up watching Pimp My Ride. Doing jobs on our own cars on the driveway is what got us into custom work and modifying. More and more people are doing jobs on vehicles themselves now and, like many of them, we use eBay to source parts, so it was natural for us to get involved in the new series. It's been 15 years since it was last on air and we're going to make sure it lives up to expectations.'
Dr Tony Tong, Head of Automotive at eBay UK said: 'With a car part sold every second on the marketplace, eBay helps millions of motorists improve their vehicles every year. That's why we're delighted to be partnering with MTV on Pimp My Ride, inspiring a new generation of DIY motor enthusiasts to experiment with cost effective, 'greener' car parts. .'
Visit eBays dedicated Pimp My Ride homepage here
*Based on a quantitative online survey of 1,919 buyers of Parts & Accessories in the past year. Made up of 1,195 from the eBay database and 724 from nationally representative panel sample: all data combined and weighted to match proportions of eBay buyers within the market. In 2015, 52 per cent fitted purchased parts and accessories themselves, compared to 69 per cent in 2022.
**eBay's Certified Recycled hub gives shoppers the chance to purchase official OEM parts removed from end-of-life vehicles, saving on costs and extending the life cycle of these products.