Thanks to its exceptional all-round ability, reliability and size, the ŠKODA Kodiaq has become the go-to choice for emergency service fleets across the UK.
And now, with the arrival of a fully updated facelift model, ŠKODA's multi-award-winning SUV is set to continue its role on the frontline, delivering critical care and support for those in need.
WHEN YOU CLICK ON LINKS TO VARIOUS MERCHANTS ON THIS SITE AND MAKE A PURCHASE, THIS CAN RESULT IN THIS SITE EARNING A COMMISSION. AFFILIATE PROGRAMS AND AFFILIATIONS INCLUDE, BUT ARE NOT LIMITED TO, THE EBAY PARTNER NETWORK AND AMAZON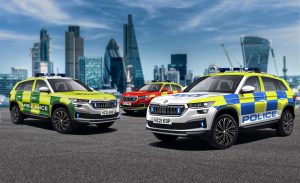 In addition to introducing a striking new look, the facelifted Kodiaq – which is priced from £28,185 OTR – comes with an updated engine range that delivers increased efficiency. All five powerplants are now part of the Volkswagen Group's latest EVO range and feature a host of advanced features. For example, both diesel engines (150PS and 200PS) feature an innovative 'twin dosing' exhaust gas treatment that reduces nitrogen oxide emissions, while the new 2.0 TSI 245PS petrol engine fitted to the new Kodiaq vRS is significantly lighter than the twin-turbo diesel unit it replaces. As a result, the vRS delivers a much more agile driving experience.
The new engines also have the potential to deliver lower running costs for emergency service fleets. For example, the Kodiaq's petrol engines are more efficient than their predecessors thanks to an injection pressure of up to 350 bar that ensures lower hydraulic losses and a reduced fuel delivery rate. Equipped with Active Cylinder Technology (ACT), the 1.5 TSI automatically shuts down two cylinders when engine load is low, reducing fuel consumption further.
The Kodiaq's 'go-anywhere' ability has always been a key element of its appeal to the UK's emergency services. The new model builds on this with a wide range of engines that can be specified with four-wheel-drive. The new range-topping vRS model, for example, combines a 245PS turbocharged petrol engine with DSG and four-wheel-drive.
Ground clearance is 192 mm for all four-wheel-drive models (193mm for 2WD variants) while arrival and departure angles of 19.1 and 15.8 degrees respectively (19.0 and 15.1 for seven-seater model) mean that the Kodiaq is perfectly at home off the beaten track.
And it's not just those paying the bills that benefit from improvements made to the entire Kodiaq range. The new model introduces a range of improved assistance systems and safety features, as well as nine airbags, to protect its occupants in the best possible way. Travel Assist incorporates five assistance systems, including Predictive Cruise Control, Adaptive Lane Assist and an improved version of Traffic Sign Recognition.
The updated Kodiaq is also as comfortable and accommodating as ever thanks to its vast boot that can hold up to 835 litres of equipment with the rear seats in position. The sheer size of the Kodiaq's boot means that the transportation of vital life-saving emergency equipment such as oxygen tanks, ventilators and other essential equipment is an easy task. Up front, the cabin has also been optimised to make long shifts behind the wheel as comfortable as possible thanks to new steering wheel designs with even clearer controls.
The fully updated Kodiaq range can be specified with the brand's bespoke emergency service conversion treatment. This includes 360-degree lighting and a full integration of the emergency services' communication platform within ŠKODA's existing infotainment touchscreen. It ensures all functionality, such as the lighting, can be controlled through one central accessible platform.
Individual customer conversion requirements can be accommodated via ŠKODA's approved specialist convertors.
Since its launch four years ago, the ŠKODA Kodiaq has become a popular and highly dependable part of the UK emergency services fleet. Among the hundreds of Kodiaqs in active service are 50 fully-converted examples used by the Police Service of Northern Ireland and 30 used as fast response support vehicles used by West Sussex Fire and Rescue service. A further 18 Kodiaqs are currently serving on the front line for the South Western Ambulance Service NHS Foundation Trust.
For more information on the facelifted ŠKODA Kodiaq range, plus media assets for all ŠKODA models, please visit www.skodamedia.com.