Attitude magazine – the world's largest LGBTQ+ media brand – in partnership with Jaguar has launched an online mini-series in which four of the world's most fabulous drag queens race to raise funds for LGBTQ+ charities.
Hosted by Channel 4's Drag SOS star, Cheddar Gorgeous, 'Jag Race' features Courtney Act and Peppermint; stars of the Emmy Award-winning TV show, RuPaul's Drag Race, alongside The Vivienne, who was recently announced as a contestant on BBC Three's hotly-anticipated UK version of Drag Race and 'North-East Premier Show Girl' Miss Tickle.
Behind the wheel of Jaguar's all-electric I-PACE, each queen will drag race over a standing quarter mile to snatch the top prize of £10,000 for their chosen charity. The runner-up will bag £6,000, with the remaining queens taking £2,000 each.
The charities are the Albert Kennedy Trust (UK), Stonewall Community Foundation (New York), Sahir House (Liverpool) and Angel Trust (North-East).
Fans can also support the queens' chosen charities by donating at www.gofundme.com/AttitudeJagRace*
The mini-series celebrates the longstanding relationship between Attitude and Jaguar in the                lead-up to the eighth annual Virgin Attitude Awards 2019, which Jaguar has sponsored for the last four years. The Awards will be hosted from Camden's Roundhouse on 9th October by American TV personality and RuPaul's Drag Race judge, Ross Mathews.
WHEN YOU CLICK ON LINKS TO VARIOUS MERCHANTS ON THIS SITE AND MAKE A PURCHASE, THIS CAN RESULT IN THIS SITE EARNING A COMMISSION. AFFILIATE PROGRAMS AND AFFILIATIONS INCLUDE, BUT ARE NOT LIMITED TO, THE EBAY PARTNER NETWORK AND AMAZON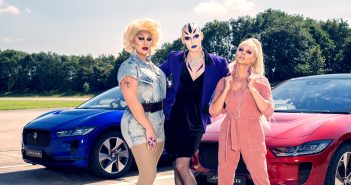 HEAT 1 – SUMMARY AND SELECT QUOTES
Unveiled today, heat one pits Courtney Act against The Vivienne in a not so neck-and-neck race along a private test track.
The Vivienne exercises her new-found star status and enlists the help of 'Jag Race' host Cheddar Gorgeous to drive, while she relaxes on the backseat. By the time Cheddar puts her gears into action, Courtney is already halfway to the finish line and wins by a country mile!
The Vivienne on her fame and excitement about the Attitude Jag Race:
"Hi, I'm The Vivienne and I'm the second most famous drag queen to come out of Liverpool. Today I'm absolutely thrilled because for once, I'm going to be driving a car that I haven't actually robbed."
"Courtney doesn't know what she's let herself in for today. She's going up against a Scouser and I fight til' the end."
Courtney on her feelings after winning the Jag Race:
"Well, I just won by the two greatest words in the English language: de-fault."
[To The Vivienne]: "I can't tell you the exhilaration I felt when I zoomed across the finish line, but then I realised you hadn't even started…You didn't even get to drive the car…do you even have a licence?!"
The Vivienne on her loss:
"I think I misunderstood when they said it was an electric car. I thought you could just get in and it just went."
"I have a license for some things but not driving."
Watch heat one with Courtney Act & The Vivienne out now – LINK
*Fan donations will be split equally between the four charities